Avocado Gazpacho
(0)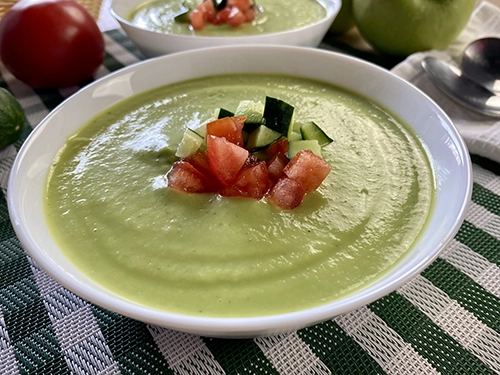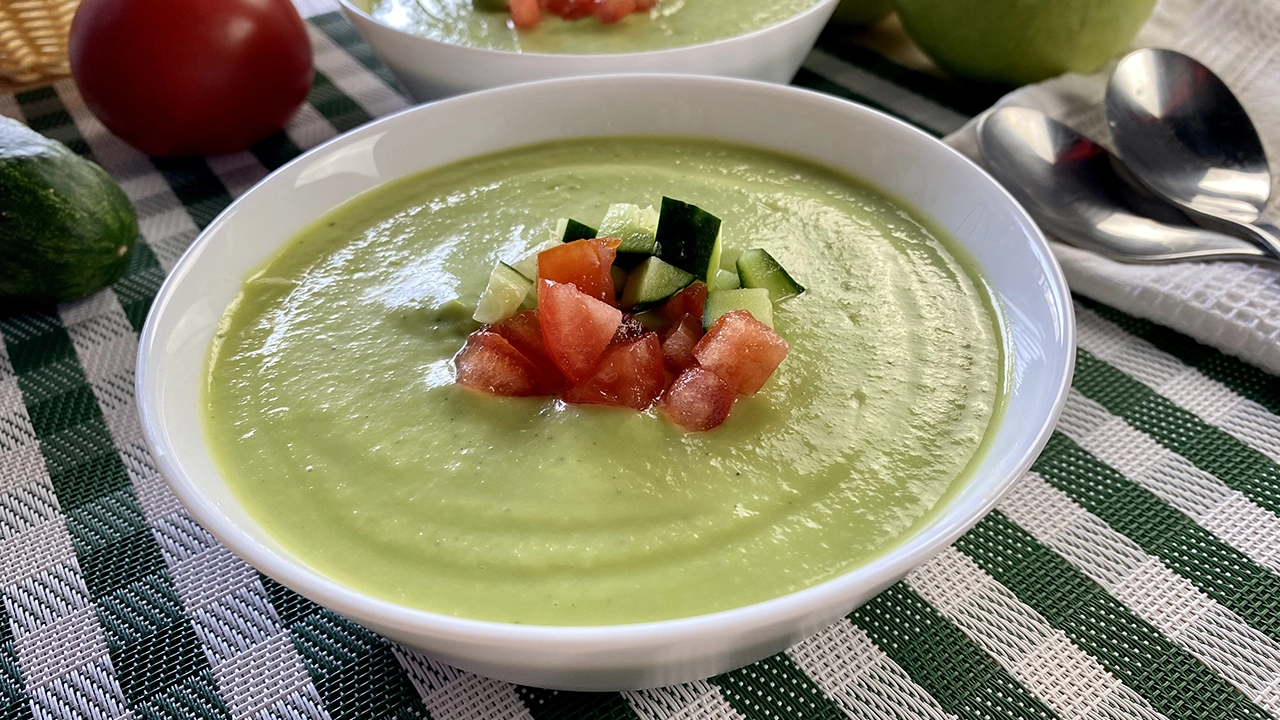 Share

Comment

Score

Save
Dish: Starter
Quantity: 2
Country: Spain
The gazpacho is a typical cold soup from Spain, basically it is prepared with tomatoes, cucumbers, peppers, garlic and olive oil, among others, but there are countless variations such as this delicious avocado gazpacho that we are going to prepare today.
The avocado gazpacho is a super simple recipe to prepare and it is also a healthy and low-fat option, to make it, we will need few and basic ingredients including avocado, cucumber and apples, among others.
We can prepare a large quantity of avocado gazpacho and keep it in the refrigerator, it keeps perfectly and to accompany it we have plenty of options such as chopped tomato, croutons or cucumber.
The avocado gazpacho is a healthy option to take in the hottest months, it is ideal for avocado lovers and also has a very creamy texture which makes it even more irresistible.
We invite you to follow our step by step videos, where we will show you how to prepare avocado gazpacho, an easy, healthy and refreshing cold soup.
Ingredients To Prepare Avocado Gazpacho
2 avocados cut into chunks
2 green Granny Smith apples cut into chunks
1 cucumber, skinned and cut into chunks
1 garlic clove
Juice of 1 lemon
2 tablespoons apple cider vinegar
20 ml olive oil
Salt and black pepper to taste
How To Make Avocado Gazpacho
Step 1:
To begin preparing our avocado gazpacho, add in the blender glass the cucumber, apple, avocado, garlic clove, lemon juice, olive oil, apple cider vinegar, a little salt, a little pepper and blend everything very well until you get a creamy texture (if you notice that the texture is too thick, you can add a little water) and we have ready our avocado gazpacho, refrigerate it to serve it cooler.
Step 1: How To Make Avocado Gazpacho
Tips To Prepare Avocado Gazpacho
Keep the gazpacho in the refrigerator to keep it cool when serving.
You can accompany the avocado gazpacho with tomato, croutons, apple, among others.
What can we accompany this recipe with?
This avocado gazpacho is a delicious and healthy option to have as a starter both in summer and at any time of the year.
This recipe has no comments yet