Baked salmon with vegetables
(0)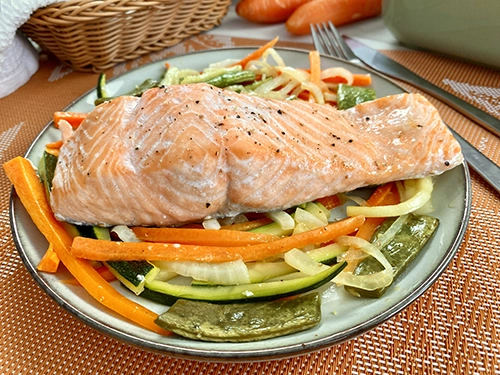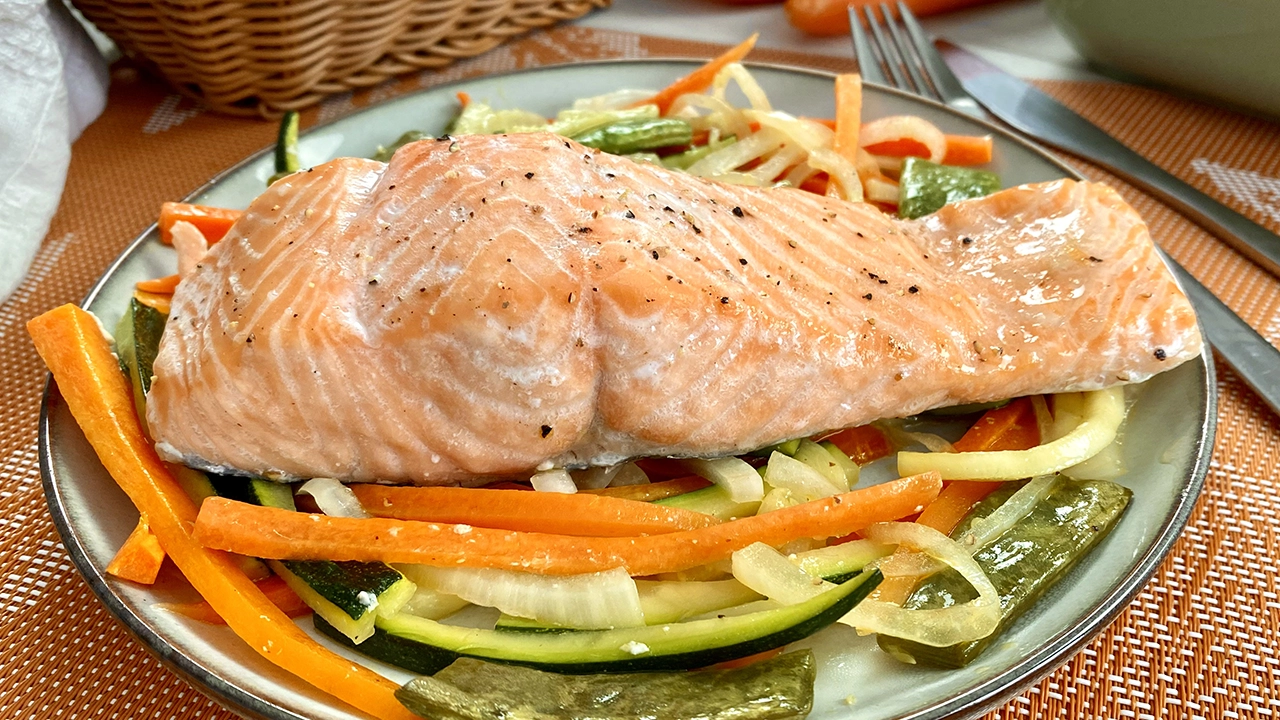 Salmon is a rich source of protein, Omega-3 fatty acids, vitamins and minerals, it is also a very versatile food that can be cooked in different ways, such as grilled salmon, salmon en papillote or steamed salmon, among others, It also allows us to prepare a lot of healthy and delicious recipes, such as a teriyaki salmon, a rich salmon marmitako, the popular salmon with honey and mustard, a salmon tartar or this healthy baked salmon with vegetables that we will show you to prepare today.
A simple recipe has everything, it is also a very healthy dish and thanks to the fact that salmon is a fatty fish, it is very juicy and with a spectacular flavor, as for the vegetables to use to prepare this baked salmon recipe, they go a little to taste, we can use the ones we like the most or the ones we have available in our pantry, such as onions, peppers, carrots, zucchini, beans, broccoli, cauliflower, among others.
Another important point when cooking salmon is its cooking time, if we overcook it, it will be too dry, so we always recommend cooking it just the right time, although it will depend on the size of the salmon filet, but more or less for a standard size or like the one we will show you below in our step by step videos, with about 12 minutes it will be just right.
This recipe of baked salmon with vegetables, is a very complete dish, since it brings us a garnish included, it also allows us to get rid of all those vegetables that we have left over at home, it is also ideal for diet diets where you are looking to eat dishes with the least amount of calories possible.
As for the salmon, ask your fishmonger to get you some good loins, and if you buy the whole salmon, ask him to give you the spine and head, they will serve to prepare a fish fumet for other preparations, what we must do at home, is to remove the bones of the salmon, this we can do with special tongs for fish, it is a very simple task.
This baked salmon with vegetables is an ideal dish for our daily meals, besides the oven will take care of almost all the work, so when you see that salmon is in season or has an economic price, do not hesitate to buy it to prepare wonderful recipes like this baked salmon.
We invite you to follow our step-by-step videos below, where we will show you in detail how to make baked salmon with vegetables! And if you have any doubts or questions, leave us a comment and we will be happy to help you!
Ingredients To Prepare Baked salmon with vegetables
2 salmon loins
1/2 onion cut into julienne strips
1/2 zucchini cut in strips
2 carrots cut into strips
10 green beans cut into pieces
Salt and pepper to taste
Olive oil
How To Make Baked salmon with vegetables
Step 1:
We begin the preparation of our baked salmon with vegetables, for this, we preheat the oven to 180º C / 356 °F, then, in a baking dish suitable for oven, we add the carrots, zucchini, green beans, onion, add a little olive oil, a little salt, a little pepper, stir with your hands and take it to the oven for 15 minutes.
Step 1: How To Make Baked salmon with vegetables
Step 2:
After 15 minutes, remove from the oven, place our salmon loins on top (previously seasoned with salt and pepper) and take back to the oven, cook for 12 minutes and we have our delicious salmon with vegetables ready, enjoy!
Step 2: How To Make Baked salmon with vegetables
Tips To Prepare Baked salmon with vegetables
For this baked salmon with vegetables recipe, you can add the vegetables you like the most, such as peppers, onion, garlic, carrots, potatoes, zucchini, among others.
It is very important not to exceed the cooking time so that the salmon does not overcook and become dry.
Remove the bones from the salmon before starting the recipe.
What can we accompany this recipe with?
This baked salmon with vegetables comes with its own garnish, which would be all the vegetables that we add, you can also accompany it with a soup or cream as a starter.
This recipe has no comments yet