Caprese salad
(0)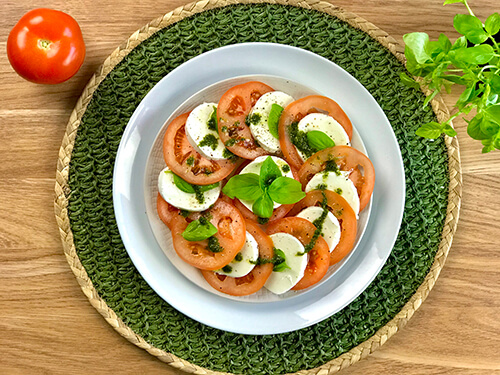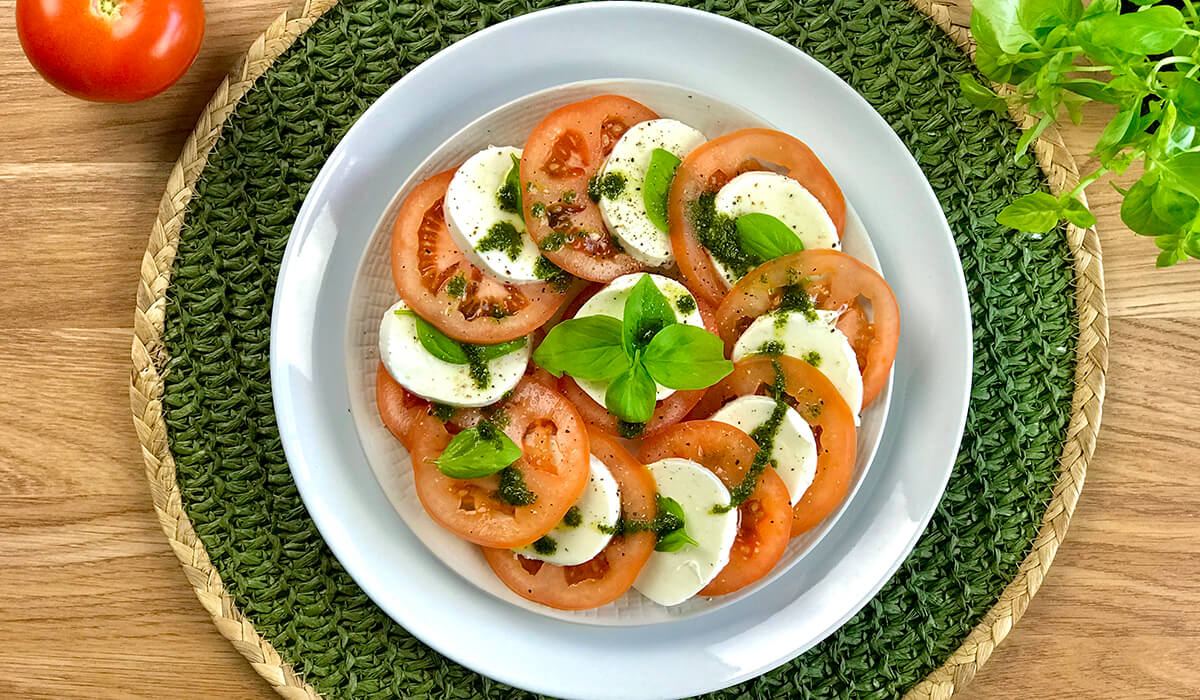 Share

Comment

Score

Save
The salads are very healthy dishes that provide our body with the necessary nutrients for its proper functioning and best of all is that most of them are very easy and quick to prepare and are also a perfect option for vegetarians.
Today we are going to move to Italy and we are going to prepare one of its most famous salads, it is the caprese salad, prepared with tomatoes, mozzarella, basil and dressed with olive oil, a perfect combination of flavors, it is also ideal to accompany our meals but we can also eat it for a light dinner!
We invite you to follow our step-by-step videos, where we will show you the whole process to make a caprese salad! One of the most famous salads in the world.
Ingredients To Prepare Caprese salad
4 tomatoes
400 gr. fresh mozzarella cheese
Fresh basil
10 gr. oregano
Olive oil
Salt and pepper to taste
How To Make Caprese salad
Step 1: We begin the preparation of our caprese salad, to do so, we cut the tomato and cheese into slices and set aside.
Step 1: How To Make Caprese salad
Step 2: We continue preparing our dressing, for it in a mortar add basil leaves, oregano, salt and pepper and grind to obtain a paste, then add the olive oil and integrate everything.
Step 2: How To Make Caprese salad
Step 3: Let's assemble our caprese salad, for this, in a flat plate we will place a slice of tomato, a slice of mozzarella cheese and a basil leaf, repeat this process until we cover the entire plate as I show you in the video.
Step 3: How To Make Caprese salad
Step 4: Add on top the dressing previously prepared, add salt and pepper to taste and we have our delicious caprese salad ready to enjoy!
Step 4: How To Make Caprese salad
Tips To Prepare Caprese salad
If you wish, you can add black olives to this caprese salad, it adds a different touch.
Or you can dress your caprese salad in a different way, substituting the dressing for pesto sauce.
What can we accompany this recipe with?
This delicious caprese salad is perfect to accompany many dishes or as a starter in our meals.
This recipe has no comments yet