Carbonara spaghetti
(0)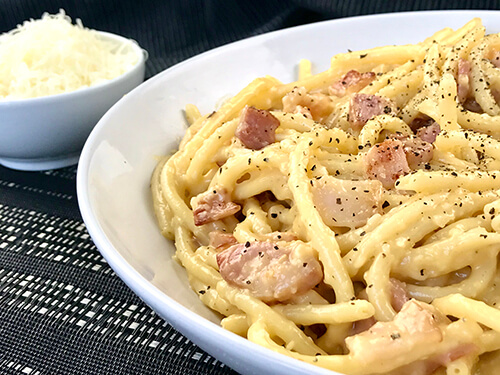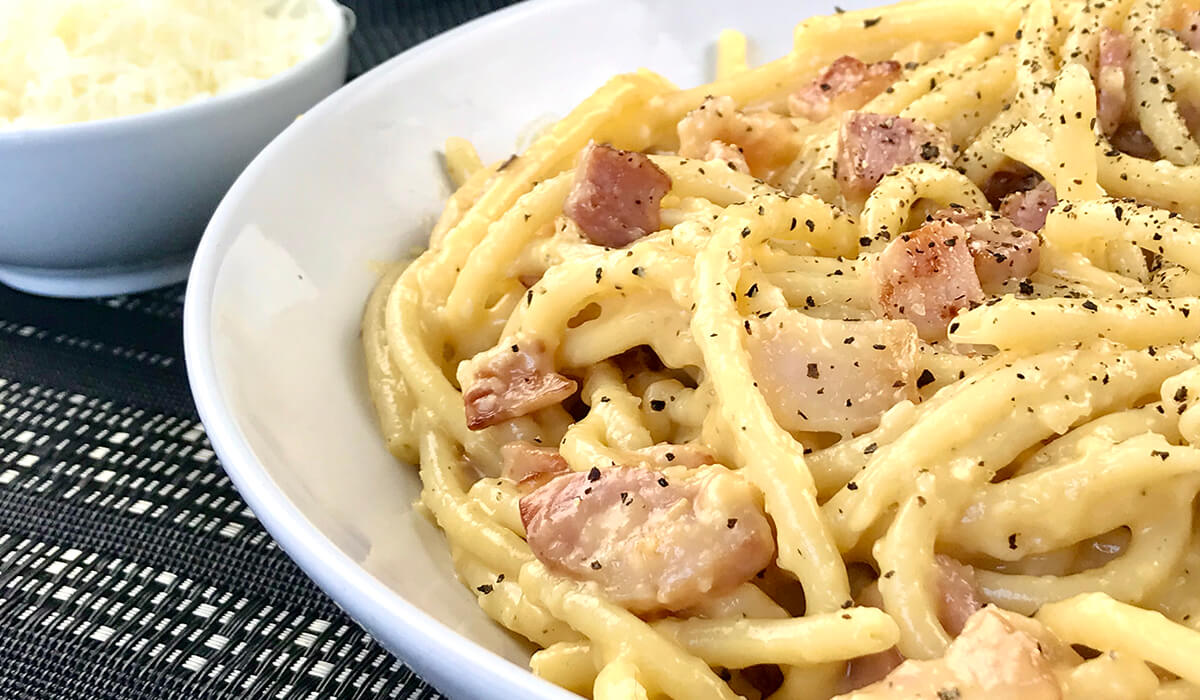 Share

Comment

Score

Save
Today we teach you how to prepare a delicious recipe for spaghetti carbonara, a typical dish in Italian cuisine and one of the most famous pasta sauces worldwide! Some people believe that the elaboration of the carbonara sauce is based on cream, but the truth is that it is not so, the authentic recipe of the carbonara sauce is made from egg yolks to which is then added a little water from the cooking of the spaghetti, parmesan cheese, oil, guanciale (which we replace with bacon) and pepper.
We invite you to follow our step-by-step videos, where we will show you how to prepare spaghetti carbonara! And if you have any doubts or questions, leave us a comment and we will be happy to help you!
Ingredients To Prepare Carbonara spaghetti
3 egg yolks
1 egg
100 gr. pecorino cheese
100 gr. of cooked and chopped bacon
500 gr. of spaghetti
Salt and pepper to taste
Olive oil
How To Make Carbonara spaghetti
Step 1: We begin the preparation of our spaghetti carbonara, for this, in a bowl or bowl we will add the egg yolks, the egg and with the help of a whisk mix, then add the cheese (reserve a little for the final mixture), the olive oil and continue beating until a creamy texture.
Step 1: How To Make Carbonara spaghetti
Step 2: In another bowl add the cooked spaghetti, the bacon, the previously prepared mixture and mix, then add a little of the pasta cooking water, a little more cheese, salt, pepper and a drizzle of olive oil, mix for 2 minutes until obtaining a creamy texture bound to the spaghetti.
Step 2: How To Make Carbonara spaghetti
Step 3: Let stand 5 minutes for the flavors to integrate and we have ready our delicious spaghetti in carbonara sauce, enjoy!
Step 3: How To Make Carbonara spaghetti
Tips To Prepare Carbonara spaghetti
At the moment of adding the pasta cooking water to our carbonara sauce, it must be hot.
For this recipe of spaghetti carbonara or spaghetti with carbonara sauce, we use pecorino cheese, if you do not get it, you can substitute it with a cured sheep cheese.
What can we accompany this recipe with?
Accompany this delicious spaghetti carbonara with a light salad as a starter, a good glass of white wine and bread!