Chicken fajitas
(0)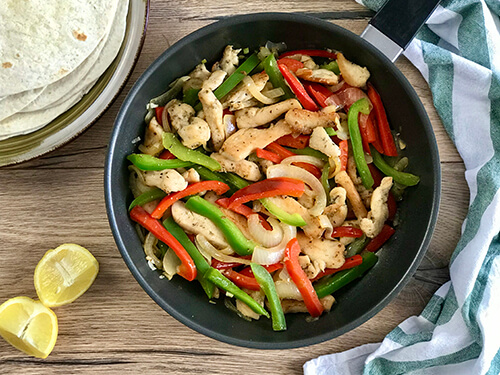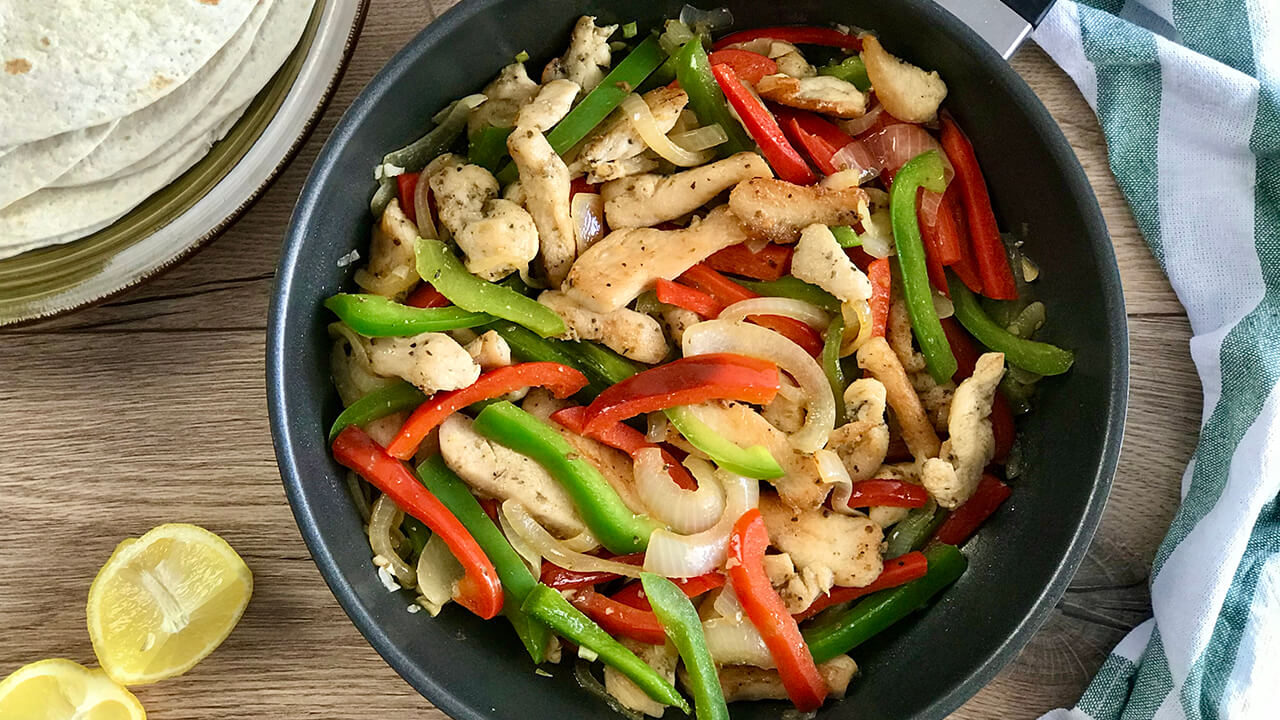 Share

Comment

Score

Save
Chicken fajitas is a very typical dish of Mexican gastronomy, it is also very famous and loved by many at an international level.
It is a very healthy and low calorie dish, since its main ingredient is chicken breast, it is accompanied by vegetables such as onions, peppers, among others, basically it is a kind of stir-fry but with Mexican flavors.
The chicken fajitas recipe could not be easier, the trick is to marinate the chicken breasts well before cooking, so they are well impregnated with all the flavors and as a result we will get a very juicy and tender chicken fajitas.
We invite you to follow our step by step videos where we will explain in detail how to make chicken fajitas! perfect for a delicious dinner or snack.
Ingredients To Prepare Chicken fajitas
1 whole chicken breast cut into strips
Wheat or corn tortillas for fajitas
1 green bell pepper cut into strips
1 red bell pepper cut into strips
1 onion cut into strips
2 cloves garlic, chopped
1 teaspoon cumin powder
1 teaspoon of powdered oregano
1 lemon
Salt and pepper to taste
Olive oil
How To Make Chicken fajitas
Step 1:
We begin the preparation of our chicken fajitas, for this, in a bowl add the chicken strips, salt, pepper, oregano and cumin, mix very well to integrate and let stand for 1 hour in the refrigerator.
Step 1: How To Make Chicken fajitas
Step 2:
In a frying pan over medium heat, add a little oil until hot, then add the chicken and cook until golden brown (reserve).
Step 2: How To Make Chicken fajitas
Step 3:
In the same pan where we cooked the chicken, add a little oil and place the garlic, let cook for a couple of minutes, then add the onion, red bell pepper, green bell pepper and let cook for 6 minutes, finally add the chicken and cook for 5 minutes.
Step 3: How To Make Chicken fajitas
Step 4:
We take a tortilla and add 2 to 3 tablespoons of our chicken, a little lime juice and we have our chicken fajitas ready! Enjoy!
Step 4: How To Make Chicken fajitas
Tips To Prepare Chicken fajitas
For this chicken fajitas recipe, you can use yellow bell pepper as well.
Remember to marinate the chicken for at least 1 hour, so that it is well impregnated with flavor (you can leave it overnight if you wish).
You can get the tortillas in any supermarket, you can use wheat, corn, whole wheat, whatever you prefer.
You can also add a little pico de gallo or guacamole, it goes great.
What can we accompany this recipe with?
Accompany these delicious chicken fajitas with some delicious nachos with chili and cheese, with quesadillas or an aguachile to start. 
This recipe has no comments yet