Chicken parmigiana
(0)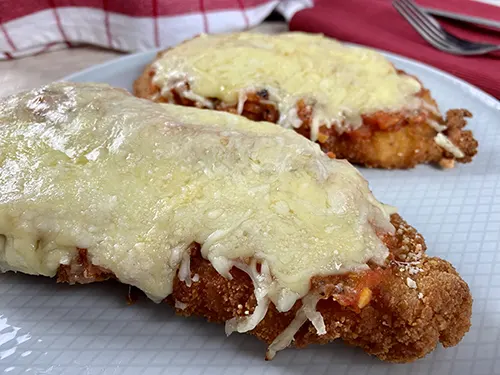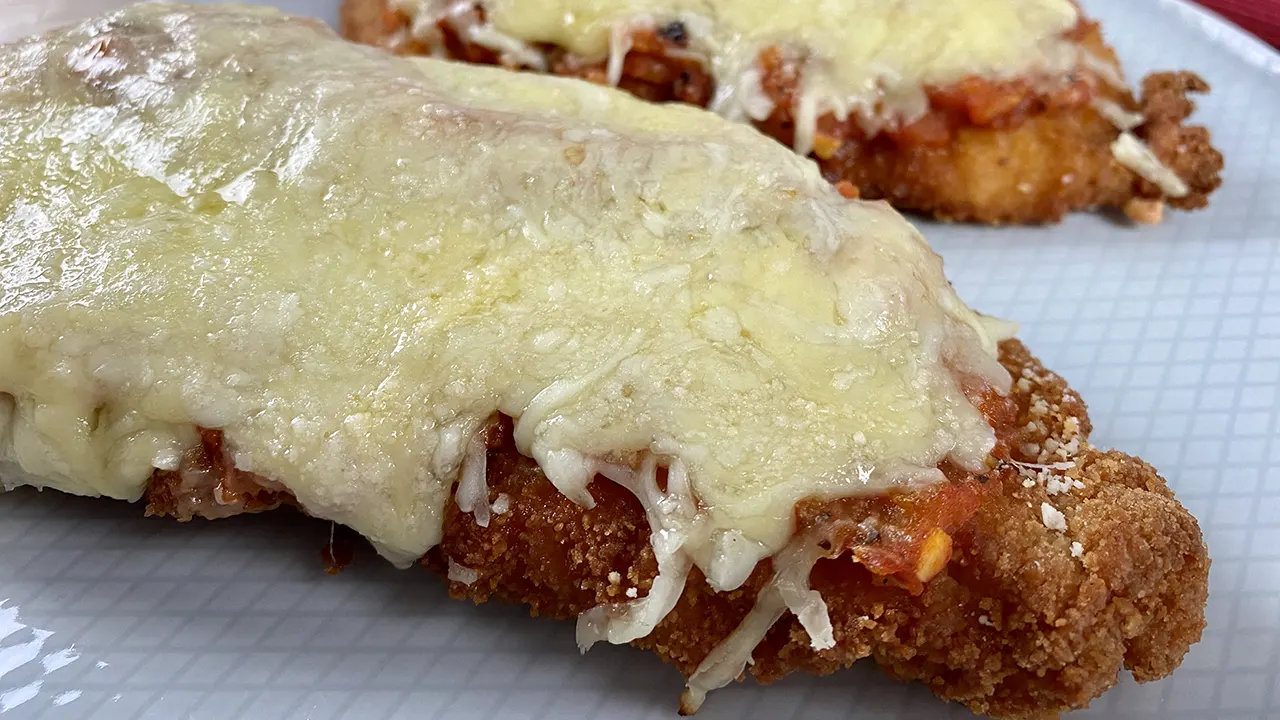 Share

Comment

Score

Save
As I have already mentioned in other recipes, chicken is a very versatile white meat because it allows us to prepare a lot of recipes, such as roast chicken, stewed chicken, baked chicken or chicken in sauce, but have you ever tried chicken parmigiana? If not, we invite you to prepare this delicious recipe, you will not regret it!
The preparation of this chicken parmesan is very simple, basically consists of breaded chicken breast fillets that are bathed with a rich tomato sauce and then taken to the oven to grill, the truth is that it is very rich, the crispy chicken plus the sauce and melted cheese, make every bite is a real treat!
Follow our step by step videos below, where we will show you the whole process to make this delicious chicken parmigiana!
Ingredients To Prepare Chicken parmigiana
4 chicken breast fillets
1 onion cut into small squares
1 garlic clove, chopped
120 ml. of crushed tomato
1 teaspoon dried oregano
1 teaspoon of dried basil (can also be fresh)
1 beaten egg for breading the chicken fillets
Wheat flour to coat the chicken fillets in batter
Bread crumbs to coat the chicken fillets in batter
80 g. shredded mozzarella cheese
50 g. grated parmesan cheese
Salt and pepper to taste
Olive oil
How To Make Chicken parmigiana
Step 1:
We begin the preparation of our chicken parmigiana, for this, in a pan with a little oil and medium heat, add the onion, garlic and let cook for a couple of minutes, then add the crushed tomatoes, a little salt, dried oregano, dried basil, a little pepper, stir and let cook for 10 minutes. Set aside.
Step 1: How To Make Chicken parmigiana
Step 2:
We take the chicken fillets and season them with salt and pepper, then we pass the chicken fillets in flour, in the beaten egg and finally in the breadcrumbs (in that order).
Step 2: How To Make Chicken parmigiana
Step 3:
In a frying pan with oil and medium high temperature, we are going to fry our chicken fillets until we see that they take a golden color. After the cooking time, remove the chicken fillets from the pan and place them on a baking sheet covered with parchment paper, add the tomato sauce previously prepared, a little mozzarella cheese, a little parmesan cheese and put them in the oven to gratin.
Step 3: How To Make Chicken parmigiana
Step 4:
When you see that the chicken fillets are au gratin (the cheese is completely melted), remove them from the oven and we have our delicious chicken parmigiana ready!
Step 4: How To Make Chicken parmigiana
Tips To Prepare Chicken parmigiana
For this chicken parmesan recipe, we use mozzarella cheese, but if you don't have it, you can substitute provolone cheese or any other cheese as long as it melts well.
You can add fresh or dried basil.
What can we accompany this recipe with?
Serve this delicious chicken parmesan with some delicious french fries or mashed potatoes.
This recipe has no comments yet