Chicken tandoori
(0)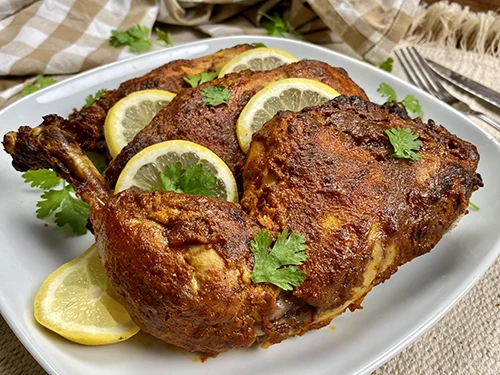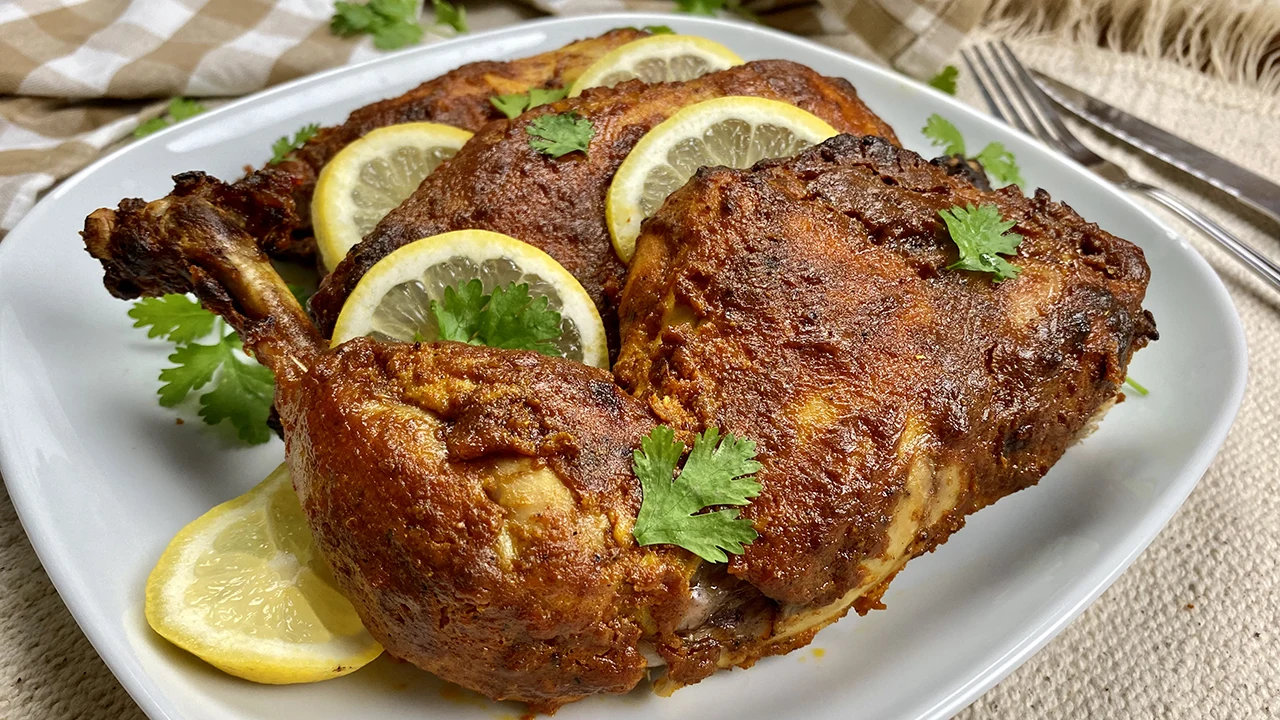 Share

Comment

Score

Save
The chicken tandoori is a very typical dish of Indian cuisine, basically consists of a chicken that is marinated with yogurt and many spices such as turmeric, coriander, cumin, garam masala and paprika.
The cooking of tandoori chicken is done in a special Indian oven called tandoor oven, but as we do not have that option, we will use our home oven, it is just as delicious and juicy.
This tandoori chicken recipe is very easy to prepare, most of the work will be done by our oven, what is important is the marinating step, it will depend on it a very good result, therefore, we recommend leaving the chicken marinating the night before its preparation, this will enhance its flavors, but if you can not do it, at least we recommend a minimum of 2 hours of marinating before cooking the chicken tandoori in the oven.
We invite you to follow our step by step videos where we will show you how to prepare chicken tandoori! And if you have any questions, leave us a comment and we will be happy to answer!
Ingredients To Prepare Chicken tandoori
6 pieces of skinless chicken (the ones you like best)
250 ml. of natural yogurt
1 tablespoon cumin powder
2 tablespoons of powdered garam masala
1 tablespoon of curcuma powder
1 tablespoon sweet paprika
1 tablespoon hot paprika
1 tablespoon crushed coriander grains
2 tablespoons ground ginger powder or crushed fresh ginger
2 crushed garlic cloves
Juice of one lemon
80 ml. of olive oil
Salt to taste
Fresh cilantro for garnish
Lemon slices for garnish
How To Make Chicken tandoori
Step 1:
We begin the preparation of our chicken tandoori, for this, in a bowl we will add the yogurt, cumin, garam masala, curcuma, sweet paprika, hot paprika, coriander powder, ginger, garlic, a little salt, lemon juice, olive oil and mix until all the ingredients are well integrated.
Step 1: How To Make Chicken tandoori
Step 2:
In another bowl, add our chicken pieces, then add our marinade and with the help of our hands, stir well, cover with plastic wrap and place in the refrigerator for 3 hours (if you marinate the chicken overnight, its flavors will be enhanced even more).
Step 2: How To Make Chicken tandoori
Step 3:
Once the marinating time is over, we place our marinated chicken pieces on oven racks (place a tray underneath) and take them to the oven at 220 ºC / 428 °F for 10 minutes, then lower the heat to 180 ºC / 356 °F and cook for 30 minutes more (halfway through cooking, we glaze the chicken pieces with melted butter or oil so that they do not dry out).
Step 3: How To Make Chicken tandoori
Step 4:
Once the cooking time is over, remove from the oven and our delicious tandoori chicken is ready! Enjoy!! decorate it with some fresh cilantro and a slice of lemon!
Step 4: How To Make Chicken tandoori
Tips To Prepare Chicken tandoori
For this tandoori chicken recipe you can use the chicken pieces that you like, thighs, thighs, thighs....
All the spices used to prepare tandoori chicken can be found in supermarkets or Indian stores.
If you want the chicken tandoori to have a powerful flavor, marinate it overnight.
It is very important to varnish the tandoori chicken halfway through cooking so that it does not become dry.
What can we accompany this recipe with?
This delicious tandoori chicken can be served with basmati rice.
This recipe has no comments yet