Cucumber and yogurt salad
(0)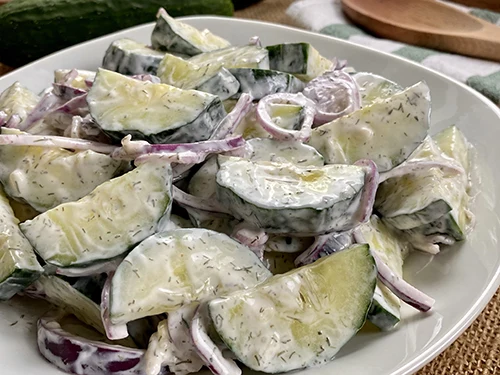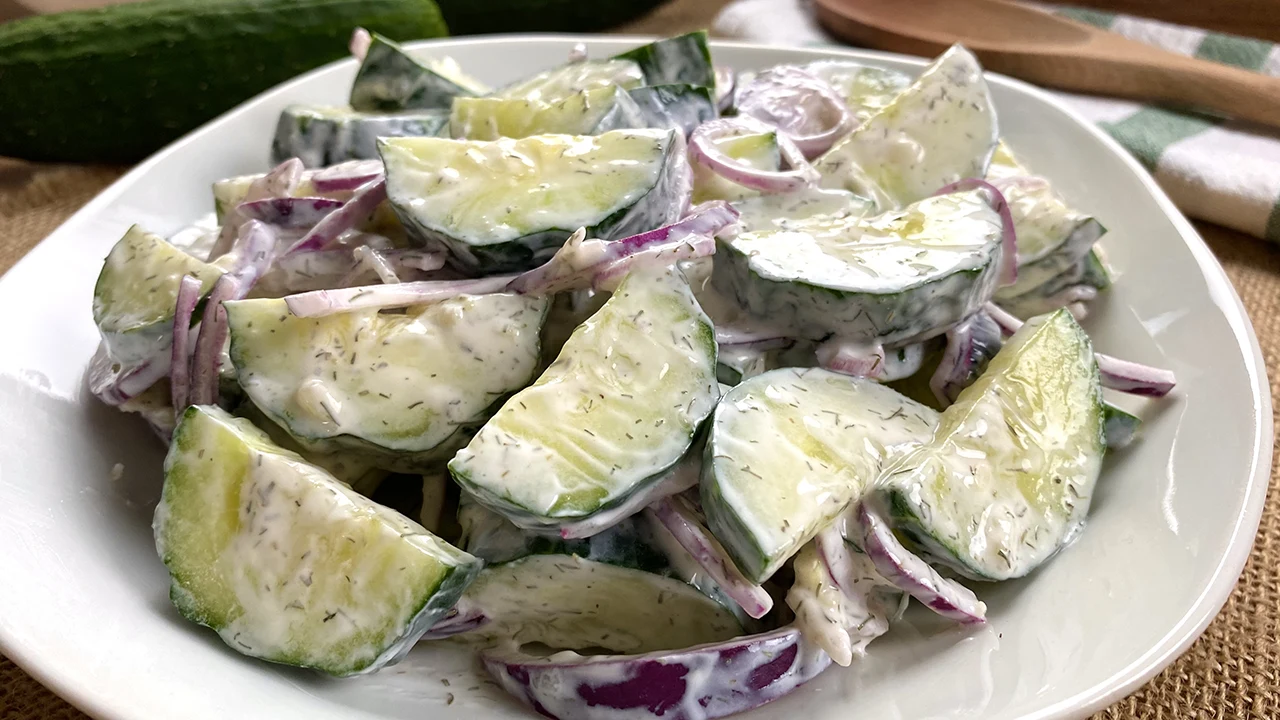 Share

Comment

Score

Save
There are a lot of salad recipes that we can prepare at home, most of them very easy and quick, as is the case of the cucumber and yogurt salad that today we show you to prepare, a very simple and quick salad to prepare, plus the yogurt gives it that creaminess and flavor that takes us directly to Greece, it is a real treat!
As for the yogurt to prepare the cucumber salad sauce, you can use Greek yogurt or natural yogurt without sugar, although we love the first option more, but come on, it's a matter of taste, with either one it's delicious!
For the summer months, this cucumber salad is perfect, and you will be surprised how quick and easy it is to prepare it, what we do recommend is to reserve it a few minutes before in the refrigerator, so that at the time of serving, it is quite cool.
Follow our step-by-step videos below, where we will show you how to prepare cucumber and yogurt salad! And if you have any doubts or questions, leave a comment and we will be happy to answer you!
Ingredients To Prepare Cucumber and yogurt salad
2 cucumbers cut in quarters
125 g. Greek yogurt (can be traditional plain yogurt)
1/4 red onion cut into julienne strips
Juice of one lemon
1 teaspoon of dried or fresh dill
1 crushed garlic clove
Salt and pepper to taste
How To Make Cucumber and yogurt salad
Step 1: We begin the preparation of our cucumber and yogurt salad, for this, in a bowl we will add the Greek yogurt, lemon juice, crushed garlic, dill, a little salt, a little pepper and integrate very well.
Step 1: How To Make Cucumber and yogurt salad
Step 2: In another bowl we will add the cucumber, the red onion, our yogurt sauce, mix very well until all the ingredients are well integrated and we have our delicious cucumber and yogurt salad ready!
Step 2: How To Make Cucumber and yogurt salad
Tips To Prepare Cucumber and yogurt salad
To prepare this cucumber and yogurt salad recipe, you can use either Greek yogurt or plain yogurt (no sugar).
You can substitute the lemon juice with white wine vinegar.
If you do not have yogurt, you can prepare this cucumber salad with sour cream or mayonnaise or a mixture of both, the result varies a little but it is just as delicious.
Wash the cucumbers very well before preparing the salad, remove the ends and cut them into quarters.
What can we accompany this recipe with?
This cucumber and yogurt salad is perfect to accompany our meals or to have it as a unique dish for the summer months!
This recipe has no comments yet