Gambas al ajillo - Garlic shrimp
(0)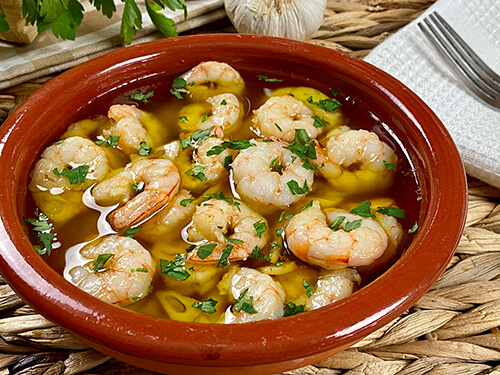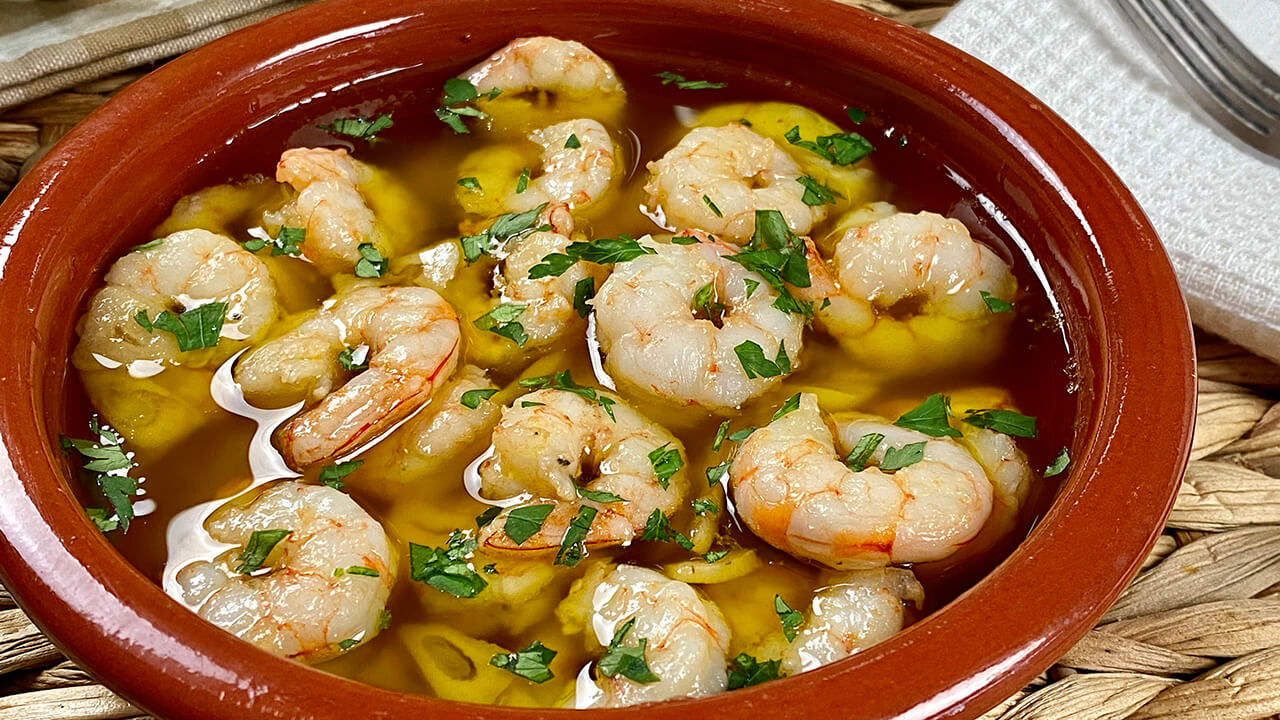 Share

Comment

Score

Save
If you are looking for a quick, simple and delicious recipe, garlic shrimp are an excellent choice, its preparation is super simple and also takes few ingredients, including garlic, olive oil and of course the shrimp, also if you like spicy, you can add chili, it gives a phenomenal touch!
The garlic shrimp or Gambas al ajillo are a very traditional dish of Spanish cuisine, normally they are usually served by the portion or like a Tapa in many of its bars accompanied by bread to dip in the sauce!
The gambas al ajillo is a perfect appetizer that we can prepare quickly at home and share with friends or family, you can also prepare this garlic shrimp recipe using prawns or shrimp, although the cooking times would be different but the procedure is the same!!!
As for the shrimp, if it is within our possibilities, we must use fresh ones, this will guarantee a better result, additionally, we must clean the shrimp very well, removing the vein or also called tripe.
We invite you to follow our step by step videos, where we will explain in detail how to make garlic shrimp or gambas al ajillo!!! a simple recipe but with guaranteed success.
Ingredients To Prepare Gambas al ajillo - Garlic shrimp
600 g. of raw shrimps (can be fresh or frozen shrimps)
5 garlic cloves cut in slices
Chopped parsley for plating
1 chili pepper
Olive oil
Salt to taste
How To Make Gambas al ajillo - Garlic shrimp
Step 1: We begin the preparation of our garlic shrimp, for this, in a frying pan with a good splash of olive oil, add the garlic slices, the chili pepper and cook over medium heat for about 4 minutes.
Step 2: Add the shrimp, a little salt and cook for 3 minutes, remove from heat, serve in an earthenware dish (it is traditional, but if you do not have it, do not worry, use another container) add a little fresh parsley on top and we have ready our delicious garlic shrimp or gambas al ajillo, enjoy!
Tips To Prepare Gambas al ajillo - Garlic shrimp
If the shrimp are frozen, take them out of the freezer at least 1 hour in advance to thaw, you can also immerse them in a bowl of water to thaw faster.
For this garlic shrimp recipe, we use shrimp, but you can also use prawns.
When frying the garlic, do it over moderate heat so that they do not burn.
Use a good quality extra virgin olive oil for an even better result.
If you do not like spicy, do not add the chili pepper.
Do not overcook the shrimp so that they do not overcook and dry out.
What can we accompany this recipe with?
We can accompany these delicious garlic shrimp with a good loaf of bread and a good glass of white wine!
This recipe has no comments yet