Greek salad
(0)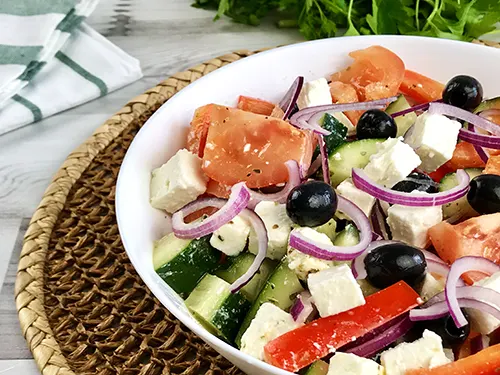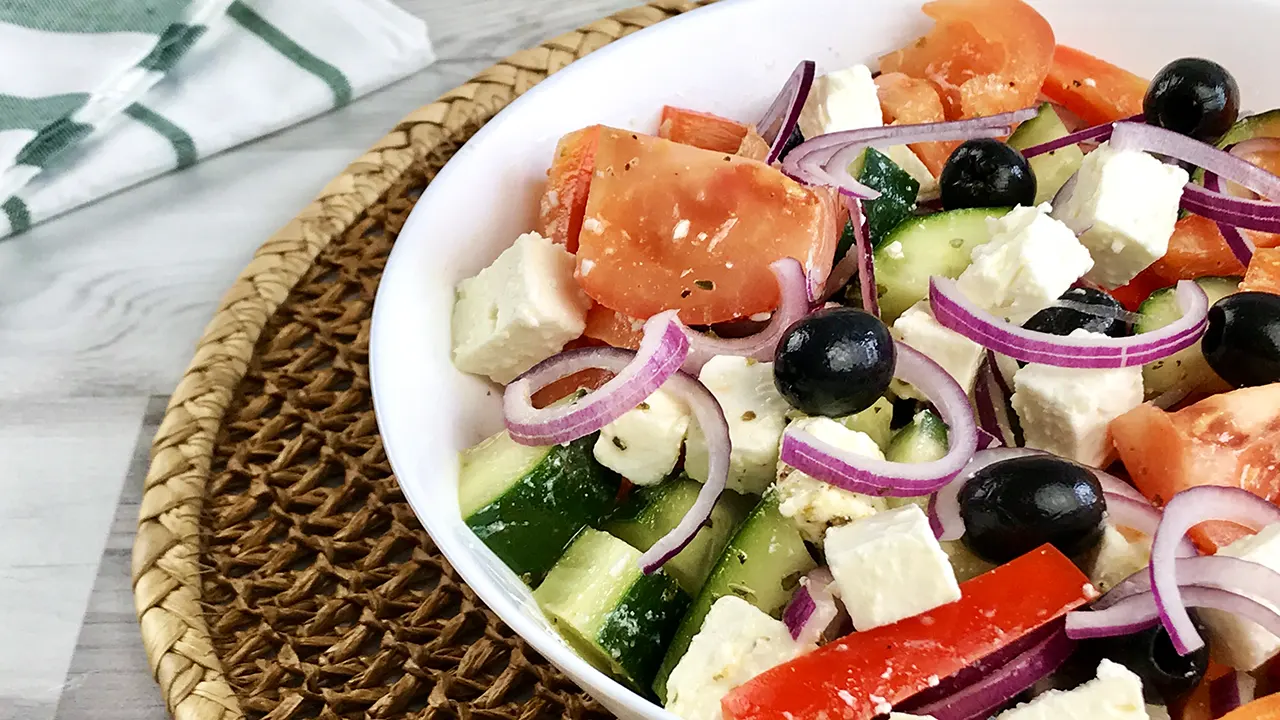 Share

Comment

Score

Save
Today we travel to Greece to bring you one of its star dishes and why not say, one of the most famous salads worldwide, is none other than the Greek salad, a super fresh salad, full of Mediterranean flavors.
The preparation of the Greek salad will only take a few minutes, it basically consists of chopping and mixing all its ingredients, among which we find tomatoes, cucumber, red onion, red bell pepper and kalamata olives (or black olives if we do not find them) and additionally seasoned with oregano (preferably Greek dried oregano), salt and olive oil.
The Greek salad is a wonderful option for hot weather because it is very refreshing, it is also great for a quick and light dinner, it is a very colorful salad, with an incredible contrast of textures, I assure you that you will love it!
We invite you to follow our step-by-step videos below, where we will show you in detail how to make Greek salad! And if you have any questions, don't hesitate to leave a comment!
Ingredients To Prepare Greek salad
2 Tomatoes cut into wedges
1/2 red onion cut into julienne strips
1 Cucumber cut into medium pieces
200 gr. feta cheese
1/4 red bell pepper cut into strips
16 Kalamata olives or, failing that, black olives
1 teaspoon oregano (preferably Greek dried oregano)
Olive oil
Salt and pepper to taste
How To Make Greek salad
Step 1: We begin the preparation of our Greek salad, for this, in a bowl we will place all our ingredients: tomatoes, cucumber, bell pepper, red onion, feta cheese, olives, oregano, salt, pepper and olive oil.
Step 2: Mix until everything is integrated and we have our Greek salad ready! I hope you enjoy it!
Step 2: How To Make Greek salad
Tips To Prepare Greek salad
Use fresh ingredients when preparing the Greek salad.
In this Greek salad recipe, the ideal is to use feta cheese, but if you do not get it, you can substitute a semi-salty white cheese.
The ideal (although we know it is difficult) is to use dry Greek oregano, it is an oregano with a more intense aroma than the one we normally find in Spain or other countries.
The Greek salad is prepared with kalamata olives, in case you cannot find them, you can substitute them with black olives.
What can we accompany this recipe with?
The Greek salad by itself is a perfect starter or side dish for many dishes, try to prepare it, you will love it for sure.
This recipe has no comments yet