Noodles with shrimp
(0)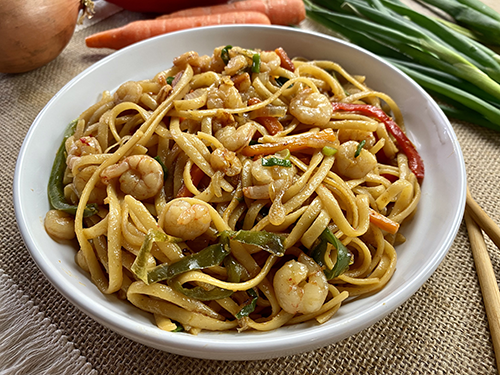 Share

Comment

Score

Save
One of the most eaten dishes in almost all over the world is Chinese food and the good news is that we do not have to go to a restaurant to taste its delicacies, since most of these recipes can be prepared at home in a simple and quick way, as is the case of these noodles with shrimp that we are going to show you how to prepare today.
The noodles with shrimp is one of the most popular dishes of Asian cuisine, usually prepared with egg noodles which are accompanied by some vegetables such as peppers, onions, carrots, scallions and of course some good shrimp.
To flavor the noodles with shrimp, different Asian sauces are used among which we can name soy sauce, oyster sauce, sesame oil is also used, among others, which we can get in Asian stores or online stores.
The noodles with shrimp is a safe bet when you want to surprise your guests, for a special meal or just to eat any day of the week, its combination of flavors makes it an incredibly tasty, authentic and irresistible dish.
Don't miss our step-by-step videos below where you will learn how to prepare noodles with shrimp, an Asian recipe that should not be missing in your kitchen.
Ingredients To Prepare Noodles with shrimp
250 g. of frozen or fresh shrimps
1 carrot chopped in thin strips
1/2 red bell pepper cut into thin strips
1/2 green bell pepper cut in thin strips
1 onion cut into strips
300 g. noodles
2 stalks of Chinese chives, chopped
6 tablespoons light soy sauce
1 tablespoon sesame oil
2 tablespoons oyster sauce
2 tablespoons hoisin sauce
Vegetable oil
How To Make Noodles with shrimp
Step 1: We begin our preparation of noodles with shrimp, for this, we cook our noodles in boiling water (following the manufacturer's instructions) and reserve, then, in a bowl add the soy sauce, oyster sauce, hoisin sauce, sesame oil and integrate everything very well.
Step 1: How To Make Noodles with shrimp
Step 2: In a wok at medium high temperature, we are going to place the oil until hot, then add the red bell pepper, green bell pepper, carrot and let cook for 4 minutes, then add the onion and cook for 2 minutes, then add the shrimp, stir again and cook for 2 minutes.
Step 2: How To Make Noodles with shrimp
Step 3: Incorporate the cooked noodles, the sauce and stir to integrate, then add the spring onion, cook for 1 more minute, remove from heat and we have our noodles with shrimp ready
Step 3: How To Make Noodles with shrimp
Tips To Prepare Noodles with shrimp
You can add to the noodles with shrimp a little chili pepper to add spice.
Do not overcook the vegetables, in Asian dishes they are usually eaten al dente.
You can use fresh shrimps or frozen shrimps, you can also use prawns.
What can we accompany this recipe with?
You can accompany these noodles with prawns with some delicious spring rolls and do not miss the Chinese bread.
This recipe has no comments yet