Onion soup
(0)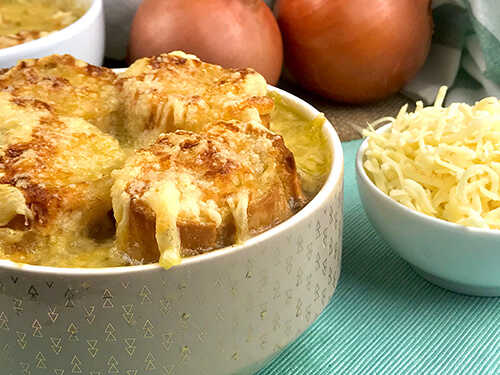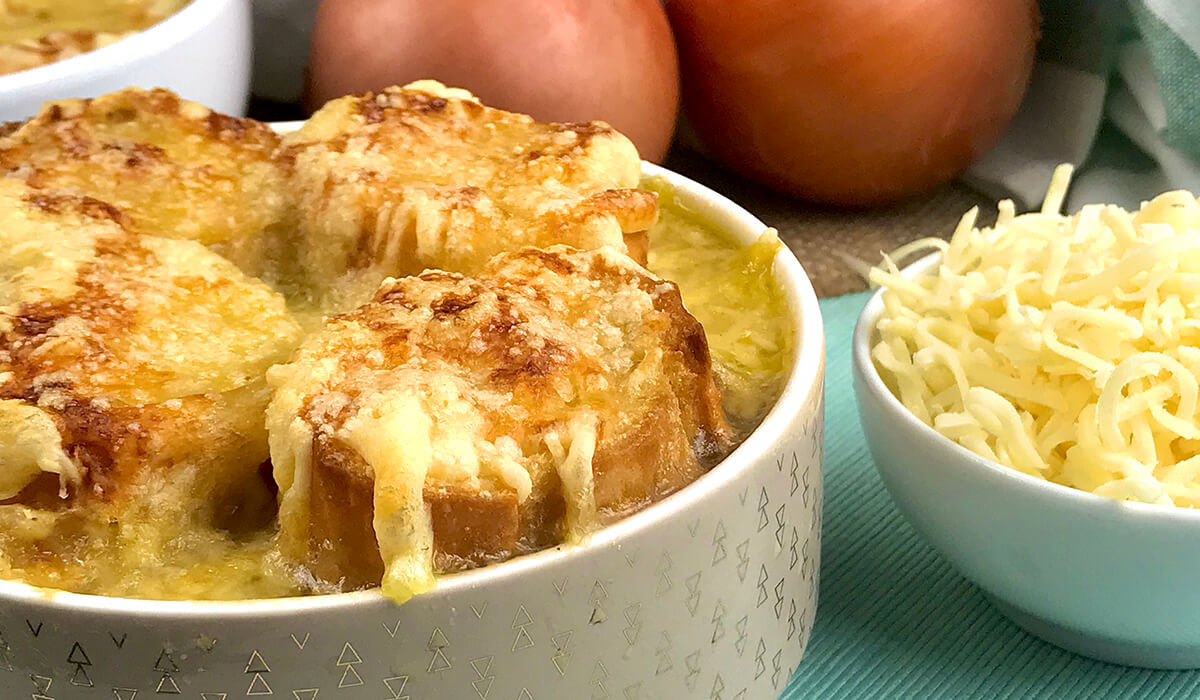 Share

Comment

Score

Save
Today we are going to France and we will prepare one of its most traditional soups, it is the onion soup, a very easy to prepare and very economical dish, it is also super delicious and very satiating, the flavors of the caramelized onion together with the cheese gratin and the crunchy bread, make this dish a real delight.
The onion soup is very simple to make, first we caramelize the onions with butter and olive oil, then we cook the onions with white wine and broth, and finally we take it to the oven to gratin with bread and cheese.
We invite you to follow our step by step videos, where we will show you the whole process to make this delicious onion soup! It will become one of your favorite soups.
Ingredients To Prepare Onion soup
1 kg. of white onion cut in thin slices
1 lt. of chicken or vegetables broth
60 gr. butter
10 gr. wheat flour
200 gr. of grated Emmental cheese
1 loaf of bread
250 ml. of white wine
Olive oil
Salt and pepper to taste
How To Make Onion soup
Step 1: We begin the preparation of our onion soup, for this, in a saucepan at medium low temperature we will place the oil and butter until melt, then add the onion and let it cook for 20 minutes (it does not matter if it browns a little because it will give color to our soup).
Step 1: How To Make Onion soup
Step 2: Add the flour and mix continuously for 2 minutes, then add the salt and the wine, let it cook until the alcohol evaporates (3 minutes approximately).
Step 2: How To Make Onion soup
Step 3: Add the chicken broth and cook at medium temperature for 30 minutes.
Step 4: In a bowl suitable for oven, place the onion soup and on top place slices of bread and grated Emmental cheese, bake the soup in the oven at 220 ºC / 428 °F for 10 minutes or until gratinized. Remove from the oven and our delicious onion soup is ready! I hope you enjoy it!
Step 4: How To Make Onion soup
Tips To Prepare Onion soup
For this onion soup recipe, use a good homemade chicken or vegetable broth, you can make it at home or buy it in supermarkets, but always use a natural broth.
When caramelizing the onions, do it at medium low temperature so that they do not burn.
You can spread garlic on the slices of bread before baking, it will add a phenomenal flavor.
What can we accompany this recipe with?
The onion soup is a very complete and satiating dish, accompany it with a good glass of white wine.
This recipe has no comments yet