Patatas bravas
(0)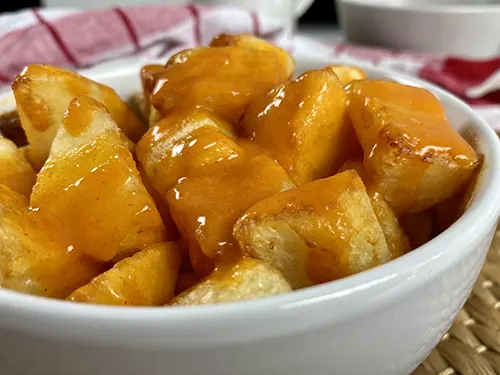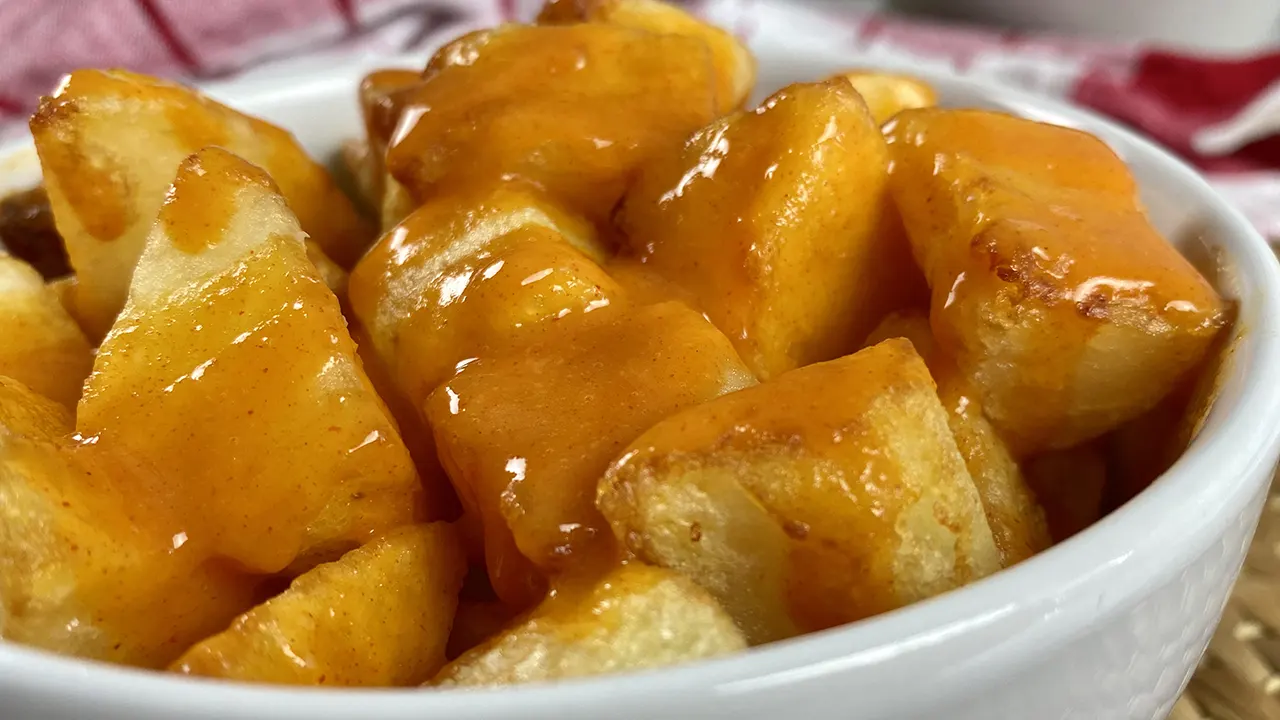 Share

Comment

Score

Save
Along with the tortilla de patatas (potato omelette), the other queen of tapas in Spanish gastronomy, are the patatas bravas, an appetizer that is served in most bars and restaurants and are the favorite of many.
The patatas bravas are fried potatoes that are accompanied by a brava sauce that is made from garlic, paprika, flour and broth, the result is a sauce with a very smooth texture and spicy flavor that you will surely love.
The good thing about preparing patatas bravas at home is that we can adapt the level of spiciness to our taste. As for the potatoes, we will also show you how to fry them so that they are perfect, very tender on the inside and crispy on the outside.
These patatas bravas are ideal for sharing a delicious snack with friends, of course, do not forget to serve a cold beer, as it is the perfect companion for this delicious tapa.
We invite you to follow our step-by-step videos below, where we will show you in detail and in a simple way, how to make patatas bravas! And if you have any questions, leave us your comment and we will be happy to help you!
Ingredients To Prepare Patatas bravas
4 potatoes, cleaned and cut into bite-size pieces
1 onion cut into small squares
1 clove of garlic cut into very small pieces
250 ml. of beef broth
1 tablespoon sweet paprika powder
1 tablespoon of spicy paprika powder
20 g. all-purpose flour
Salt to taste
Olive oil
How To Make Patatas bravas
Step 1:
We begin the preparation of our patatas bravas, for this, in a frying pan at medium temperature and with a little oil, add the onion, garlic and let it cook for 10 minutes, then add the flour and cook for a couple of minutes so that it is not raw.
Step 1: How To Make Patatas bravas
Step 2:
Add the beef broth and stir well to integrate, you will notice that the sauce begins to take thick texture, add the sweet and hot paprika and continue stirring, cook for 2 more minutes, then remove from heat and take the glass of the blender, beat well until a light sauce texture and we have our salsa brava ready!
Step 2: How To Make Patatas bravas
Step 3:
Now we go with the potatoes, for this we are going to elaborate 2 cookings, the first one: in a saucepan with abundant oil at medium temperature (140 ºC / 284 °F) we incorporate the potatoes and let them cook for 10 minutes, we remove them and raise the temperature (180 ºC / 356 °F) we pour the potatoes again and let them cook for 4 more minutes, we remove them and place them on absorbent paper to remove excess fat (we add a little salt to the potatoes).
Step 3: How To Make Patatas bravas
Step 4:
Place the potatoes in a bowl, add the brava sauce on top and enjoy this wonderful tapa!
Step 4: How To Make Patatas bravas
Tips To Prepare Patatas bravas
If you have leftover salsa brava, you can store it in the refrigerator for 3 days without any problem.
For this patatas bravas recipe, you can use meat broth, vegetable broth or just water.
What can we accompany this recipe with?
These patatas bravas are perfect as an appetizer or for tapas with friends, accompanied with a good beer.
This recipe has no comments yet