Porrusalda, leek soup
(0)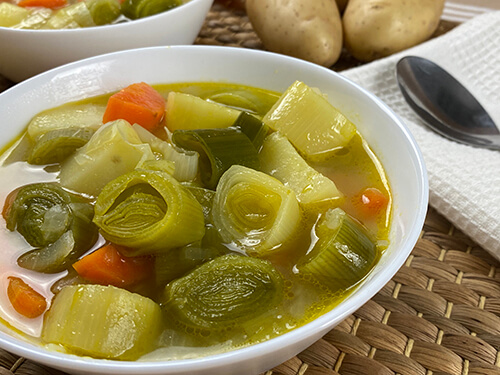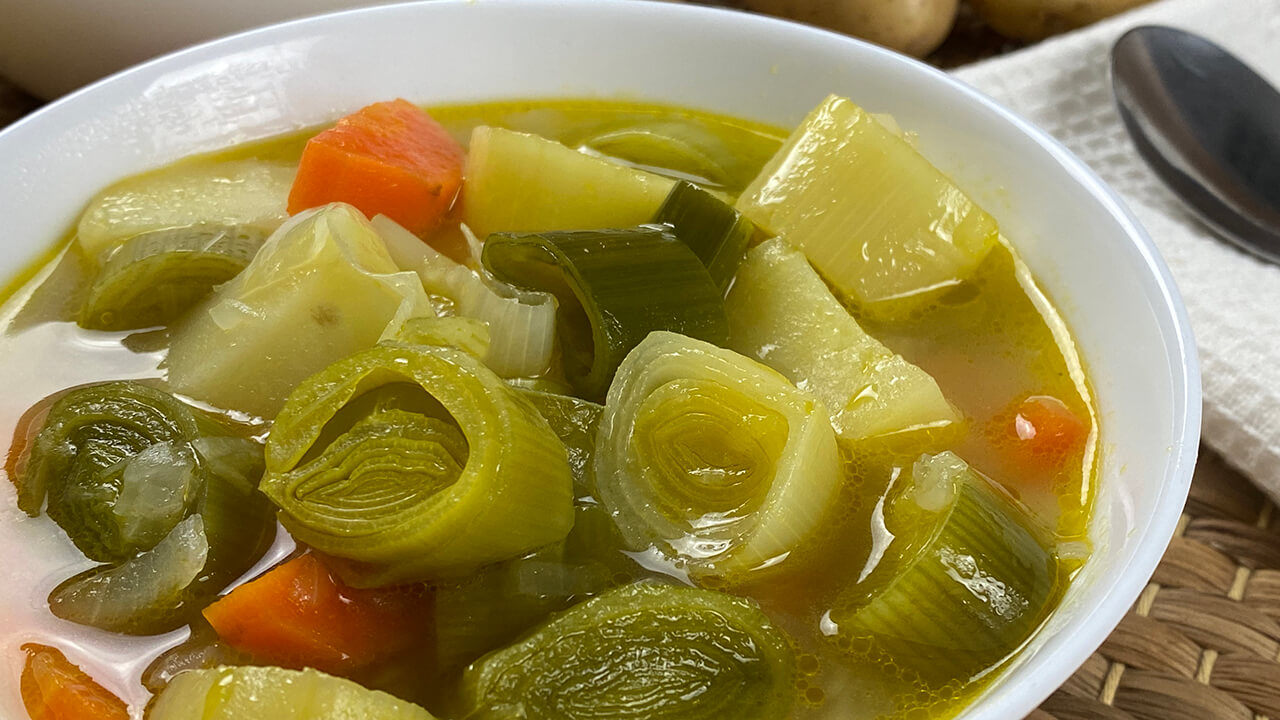 Share

Comment

Score

Save
The porrusalda or purrusalda is a very typical dish of the Basque cuisine, although it is also prepared in other regions of Spain, basically the porrusalda means leek broth, where the main protagonist is the leek accompanied by potatoes but you can also add other ingredients such as carrots and even cod, it is a matter of taste.
Porrusalda is a very healthy and nutritious dish, since it is made with vegetables which provide us with many benefits. As for its preparation, it is very simple and quick to prepare and the result is very comforting and delicious.
The porrusalda is ideal for the cold months where we always opt for eating warm dishes, we invite you to follow our step by step videos, where we will explain in detail how to prepare porrusalda!
Ingredients To Prepare Porrusalda, leek soup
3 chopped leeks (only the stalk, you can reserve the leaves for other preparations)
3 chopped carrots
3 potatoes cut into pieces
1 onion cut into small cubes
900 ml. of chicken broth
Salt to taste
Olive oil
How To Make Porrusalda, leek soup
Step 1: We begin the preparation of our porrusalda, for this, in a pot at medium temperature and with a little olive oil, we will add the onion and let it cook for a couple of minutes, then add the leek and stir with the onion, add the carrot, potatoes, a little salt and stir again, let it cook for a couple of minutes.
Step 1: How To Make Porrusalda, leek soup
Step 2: Add the chicken broth and when it starts to boil, cover and let it cook for 20 minutes or until the potatoes and carrots are perfectly cooked, remove from heat and we have our porrusalda ready, enjoy!
Step 2: How To Make Porrusalda, leek soup
Tips To Prepare Porrusalda, leek soup
For this porrusalda recipe we use chicken broth, but you can also use water, although we prefer the first option as it adds much more flavor to our porrusalda.
Use fresh vegetables and make sure they are perfectly clean.
As for the leek, we must use only the stalk, the white part, you can reserve the green leaves for another preparation.
What can we accompany this recipe with?
This delicious porrusalda is perfect as a side dish for our meals or for a tasty and healthy dinner, you can accompany it with some bread toasts.
This recipe has no comments yet