Rioja style potatoes
(0)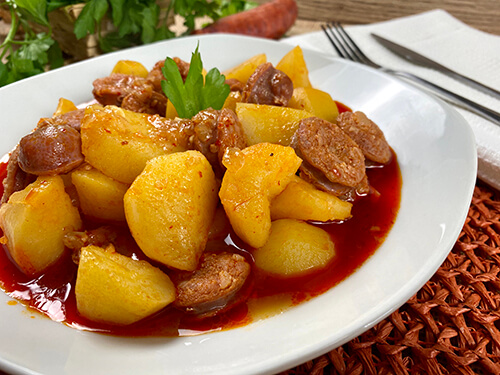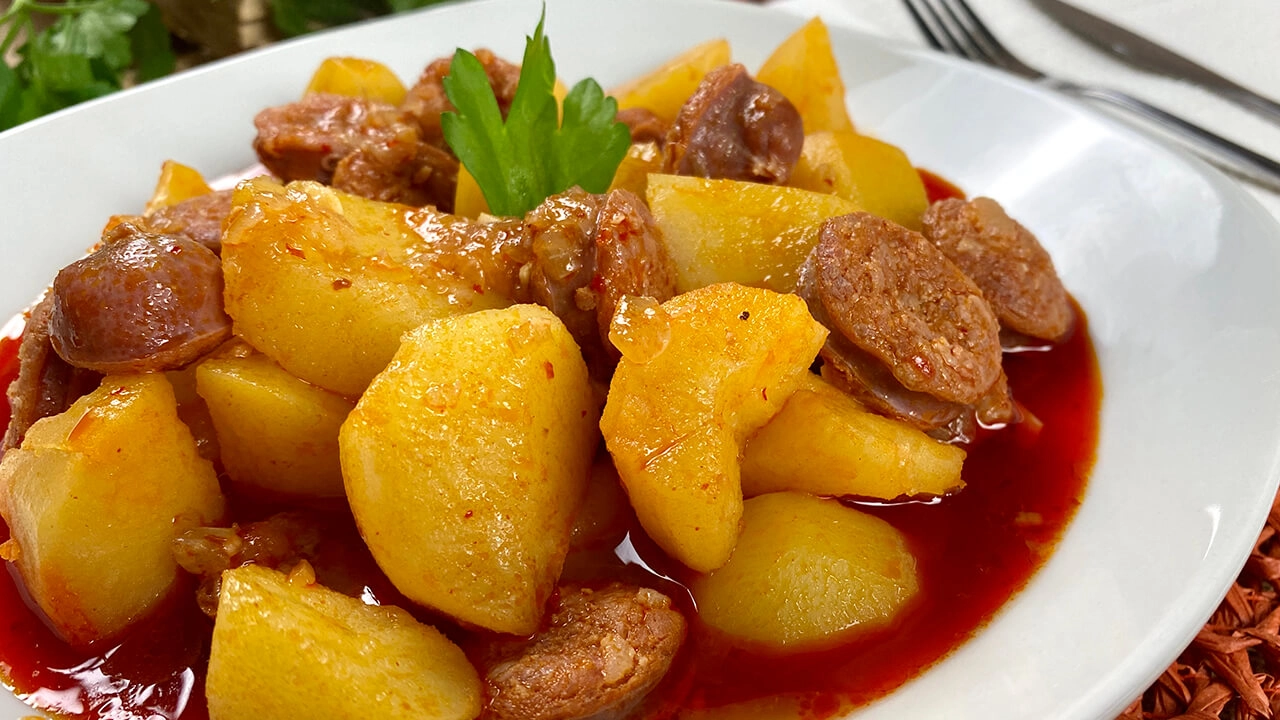 Share

Comment

Score

Save
We always love to prepare traditional dishes at home, because apart from being delicious, they are usually with very economical products, so today we will show you how to prepare one of our favorites, it is the patatas a la Riojana or also known as potatoes with chorizo, a very typical dish of La Rioja, although it is also widely consumed in other localities.
The Rioja style potatoes or potatoes with chorizo, basically consist of a stew of potatoes with chorizo and paprika that is served hot, it is a very comforting dish and perfect for the cold months where we feel like eating hot dishes.
As for the potatoes, we recommend you to use special potatoes to cook and as for the chorizo, the ideal is that they are of very good quality for a better result.
Follow our step-by-step videos, where we will explain in detail how to make potatoes Rioja style! A traditional dish with a lot of charm.
Ingredients To Prepare Rioja style potatoes
600 g. of potatoes cut into chunks
4 chorizos cut in slices
1 onion cut into small squares
2 cloves of garlic, chopped
500 ml. of beef broth
1 tablespoon of chorizo bell pepper meat
1 teaspoon sweet paprika
1 teaspoon hot paprika
1 bay leaf
Salt to taste
Olive oil
How To Make Rioja style potatoes
Step 1:
We begin the preparation of our Rioja style potatoes, for this, in a casserole, add the onion, garlic and let it cook for a couple of minutes, then add the chorizos and let it cook for 4 more minutes.
Step 1: How To Make Rioja style potatoes
Step 2:
Add the potatoes, the chorizo bell pepper, the sweet paprika, the hot paprika, a little salt, stir and cook for 3 minutes.
Step 2: How To Make Rioja style potatoes
Step 3:
Add the beef broth, the bay leaf and when it starts to boil, cover the pan, lower the heat to the minimum and cook for 30 minutes.
Step 3: How To Make Rioja style potatoes
Step 4:
After 30 minutes, remove from the heat and our delicious Rioja style potatoes are ready, enjoy!
Step 4: How To Make Rioja style potatoes
Tips To Prepare Rioja style potatoes
For this recipe of patatas a la riojana or potatoes with chorizo, preferably use some chorizo sausages from La Rioja, if you cannot find them, use a good quality chorizo recommended by your butcher.
You can also prepare these delicious Rioja style potatoes in a pressure cooker or express cooker, it will save you more time during cooking and will be just as tender and juicy.
If you are not a fan of spicy, use only sweet paprika.
For the correct preparation of the Rioja style potatoes, the potatoes must be cracked so that they release the starch and fatten the sauce. To do this, with the help of a knife, cut a slice of the potato and apply pressure to finish tearing the end of the slice.
Do not stir the potatoes with a spoon or any kitchen utensil, as you run the risk of splitting the potatoes, if you want to stir (although it is not necessary) move the whole pan with gentle turns and in this way all the ingredients and flavors will mix.
What can we accompany this recipe with?
Rioja style potatoes are a perfect first course for our meals.
This recipe has no comments yet