Tomato soup
(0)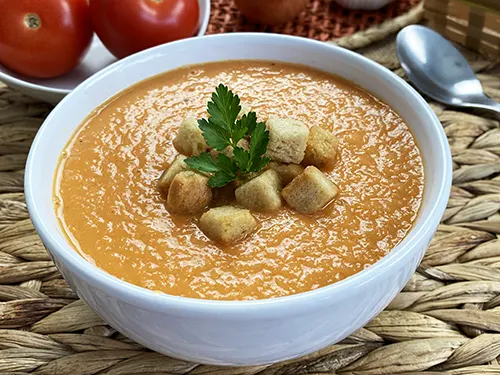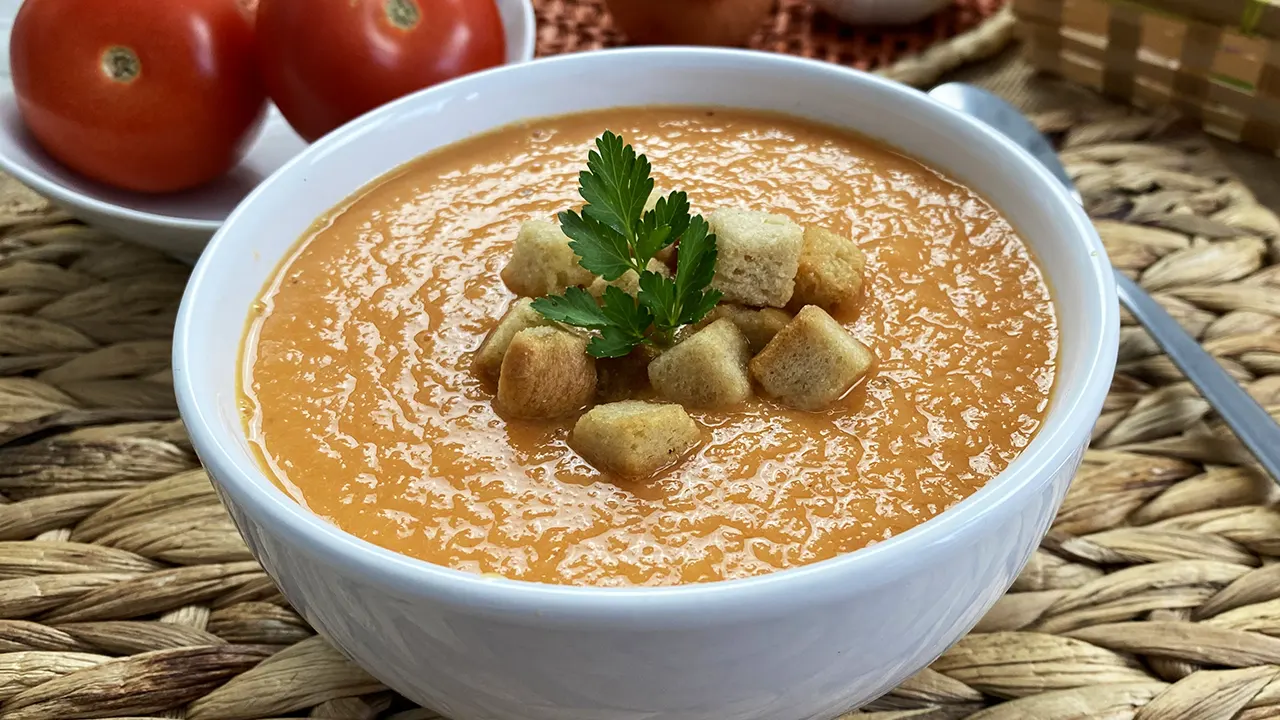 Share

Comment

Score

Save
The tomatoes are one of the ingredients that we most like to use in our kitchen, because apart from being economical and healthy, we can use them to prepare many recipes such as salads, creams and soups, stews, among others.
Today we will teach you how to prepare a delicious tomato soup, ideal to eat at any time of the year, we can take it hot for the winter months or cold for the summer months.
We have 2 ways to prepare this tomato soup recipe, the first is to submerge the tomatoes in a pot of boiling water for 2 minutes and then remove the skin easily or we can crush the tomatoes in a blender and then pass them through a strainer, this time we went for option number two, but we can opt for either without problems.
The tomato soup is a very economical and healthy alternative, it is also prepared in a very simple way, the other point in favor is that if we prepare enough quantity, we can always keep it in the freezer and it keeps perfectly.
Another important point when preparing tomato soup and that you get much more flavor, is to prepare the recipe using a homemade vegetable broth, we can buy it ready in supermarkets or prepare it at home, although we can prepare tomato soup using water, but we recommend more the first option, since the result is much more delicious.
We invite you to follow our step-by-step videos, where we will teach you in detail how to prepare tomato soup! And if you have any doubts or questions, leave us a comment and we will be happy to answer you!
Ingredients To Prepare Tomato soup
1 kg. tomatoes cut in quarters
1 onion, chopped
1 peeled garlic clove
200 ml. of vegetable broth
Croutons to accompany
Salt to taste
Olive oil
How To Make Tomato soup
Step 1: We begin the preparation of our tomato soup, for this, in the blender we add the tomatoes and crush them very well, then we strain the mixture to remove the remains of seeds and skin of the tomato.
Step 1: How To Make Tomato soup
Step 2: In a pot with a little olive oil and medium heat, add the onion, garlic and cook for 4 minutes, then add the tomatoes that we crushed, the vegetable broth, a little salt, a little pepper, stir and let cook over low heat for 25 minutes.
Step 2: How To Make Tomato soup
Step 3: After 25 minutes, remove from the heat, pour into the blender and blend until a creamy to light texture is obtained.
Step 3: How To Make Tomato soup
Step 4: Serve in a bowl, add the croutons on top and enjoy our delicious tomato soup! (you can also add cheese, nuts or whatever you like).
Step 4: How To Make Tomato soup
Tips To Prepare Tomato soup
For this tomato soup recipe, we use a vegetable stock but you can also use water.
Wash the tomatoes very well before starting the recipe.
If you want the tomato soup to have a much finer texture, strain it through a sieve.
What can we accompany this recipe with?
This tomato soup is an ideal dish to accompany our meals, although it can also be eaten as a main course.
This recipe has no comments yet