Avocado sauce
(0)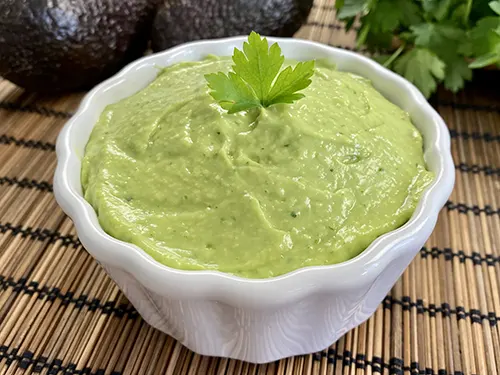 Share

Comment

Score

Save
Avocado is a great ally when it comes to preparing recipes, since it helps us to add flavor to many food dishes, such as salads, sauces, sandwiches, etc.
Today we are going to show you how to prepare a delicious avocado sauce that is ideal to accompany meats, fish, vegetables or just to dip, and it is prepared in a few minutes, we just need to process all the ingredients and that's it!
The avocado sauce is very healthy, since at no time we use mayonnaise or anything like it, only with avocado along with other ingredients such as onion, parsley, among others, we will get a rich sauce that goes great with many meals.
As for the consistency of the avocado sauce, it goes a little to taste, there are those who like it quite thick or there are those who prefer a lighter sauce, depending on our tastes we can always adapt it by adding more or less amount of water, as we can always add the spices that we like.
We invite you to follow our step-by-step videos below, where we will explain in detail how to make avocado salsa! And if you have any doubts or questions, leave us a comment and we will be happy to help you.
Ingredients To Prepare Avocado sauce
1 avocado cut into chunks
1/4 onion
Juice of half a lemon or lime
2 tablespoons fresh parsley leaves
50 ml. water
Salt and pepper to taste
How To Make Avocado sauce
Step 1:
We begin the preparation of our avocado sauce, for this, in the glass of the blender, add the avocado, onion, fresh parsley, lemon juice, water, a little salt, a little pepper, grind everything very well and we have ready our rich avocado sauce!
Step 1: How To Make Avocado sauce
Tips To Prepare Avocado sauce
If you want the avocado sauce to be lighter, add more water.
What can we accompany this recipe with?
This avocado sauce is ideal to accompany meats, fish, vegetables, for sandwiches, hamburgers or simply for dipping.
This recipe has no comments yet