Cherry tomatoes confit
(0)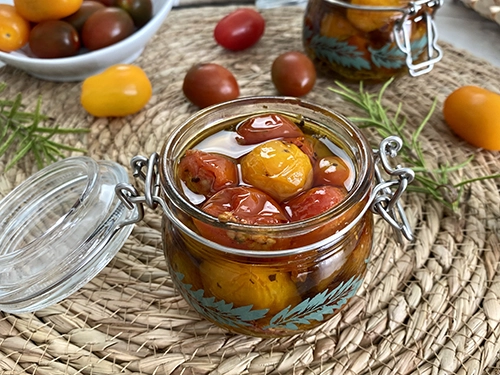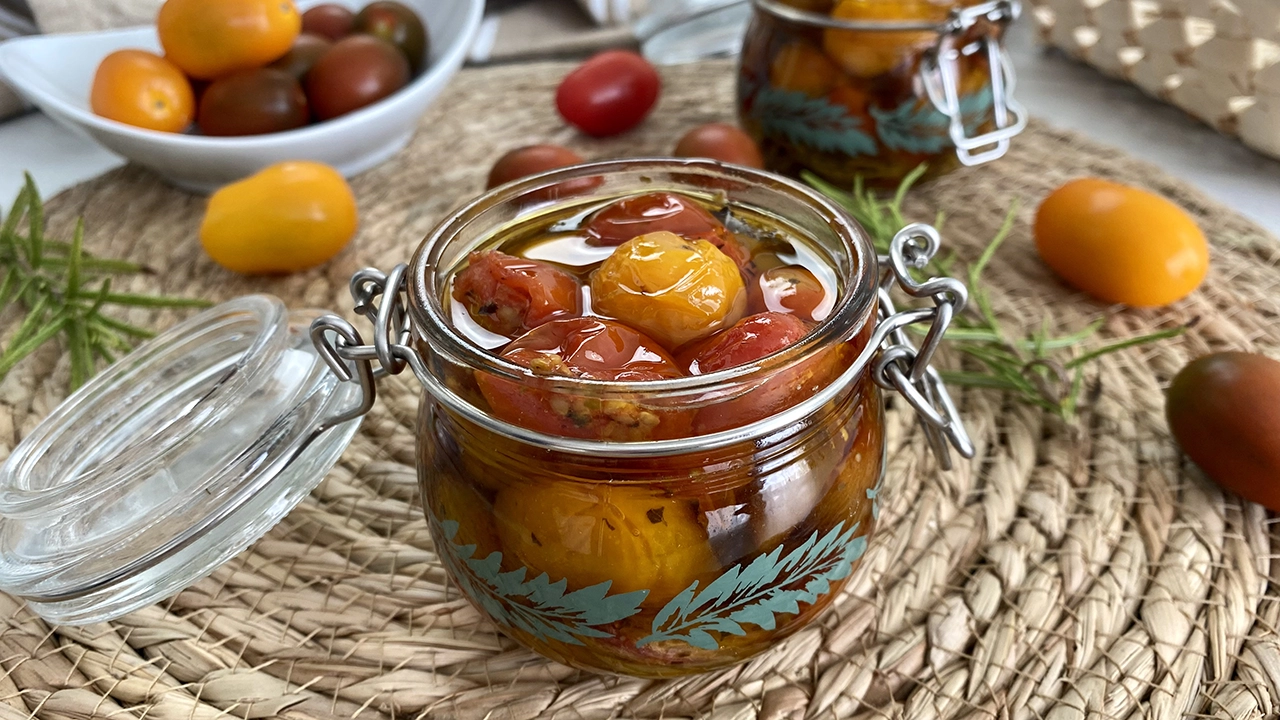 Share

Comment

Score

Save
Among the great variety of tomatoes that exist, there are cherry tomatoes, which are characterized by being small-sized tomatoes with a very good flavor and in summer time is their prime time and that is when we usually buy them to prepare delicious recipes like these cherry tomatoes confit that we will show you to prepare today.
The cherry tomatoes confit can be used to add color and flavor to our dishes, such as in salads, on toasted bread, pizzas, rice or simply eat them as a garnish.
We have 2 ways to prepare it, the first one is in the oven and the second one is in a frying pan, we went for the second one because in summer time like the one we are in, we do not want to turn on the oven at all.
Another important and fundamental point when preparing the cherry tomatoes confit, is to control the temperature, we must use a very low heat because the tomatoes should be cooked very slowly, never use high heat because you would be basically frying the tomatoes and that is not what you are looking for.
Cherry tomatoes can be found in any supermarket, there are a variety of them, there are yellow, red, orange.... What is important is that they are fresh and of good quality.
We invite you to follow our step-by-step videos below, where we will show you how to make cherry tomatoes confit, a simple recipe that everyone will love.
Ingredients To Prepare Cherry tomatoes confit
500 g. of cherry tomatoes
1 teaspoon dried oregano
1 teaspoon of dried basil (can be fresh)
1 teaspoon sugar
2 sprigs of fresh rosemary
7 whole garlic cloves with skin
Salt and pepper to taste
200 ml. olive oil
How To Make Cherry tomatoes confit
Step 1: We begin the preparation of our cherry tomatoes confit, for this, in a frying pan over medium heat add the cherry tomatoes (they must have enough space and not be mounted on top of each other) salt, sugar, oregano, basil, pepper, the garlic cloves, the rosemary, the olive oil, stir very well and when we see that it begins to bubble, lower the heat to the minimum and cook for 30 minutes (it is very important to maintain a low heat since the cherry tomatoes should cook very slowly without frying).
Step 1: How To Make Cherry tomatoes confit
Step 2: After 30 minutes, uncover the pan, raise the heat a little and cook for 10 minutes more to remove some of the water, then remove from heat, let cool, add our cherry tomatoes in an airtight glass jar, close tightly and we have them ready! (they can be eaten either hot or cold or at room temperature, what we must always reserve them in the refrigerator).
Step 2: How To Make Cherry tomatoes confit
What can we accompany this recipe with?
These cherry tomatoes confit are ideal to accompany meats, poultry, fish, on toasted bread, to add to pizzas, pastas, rice or whatever you like.
This recipe has no comments yet