Chicken cannelloni
(0)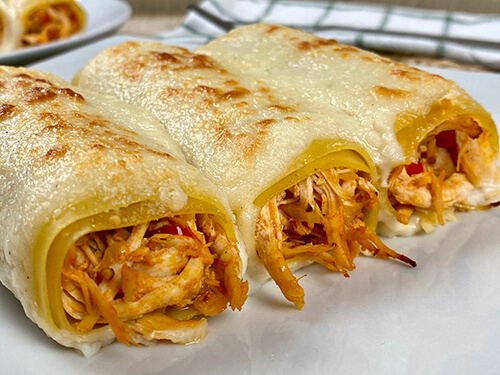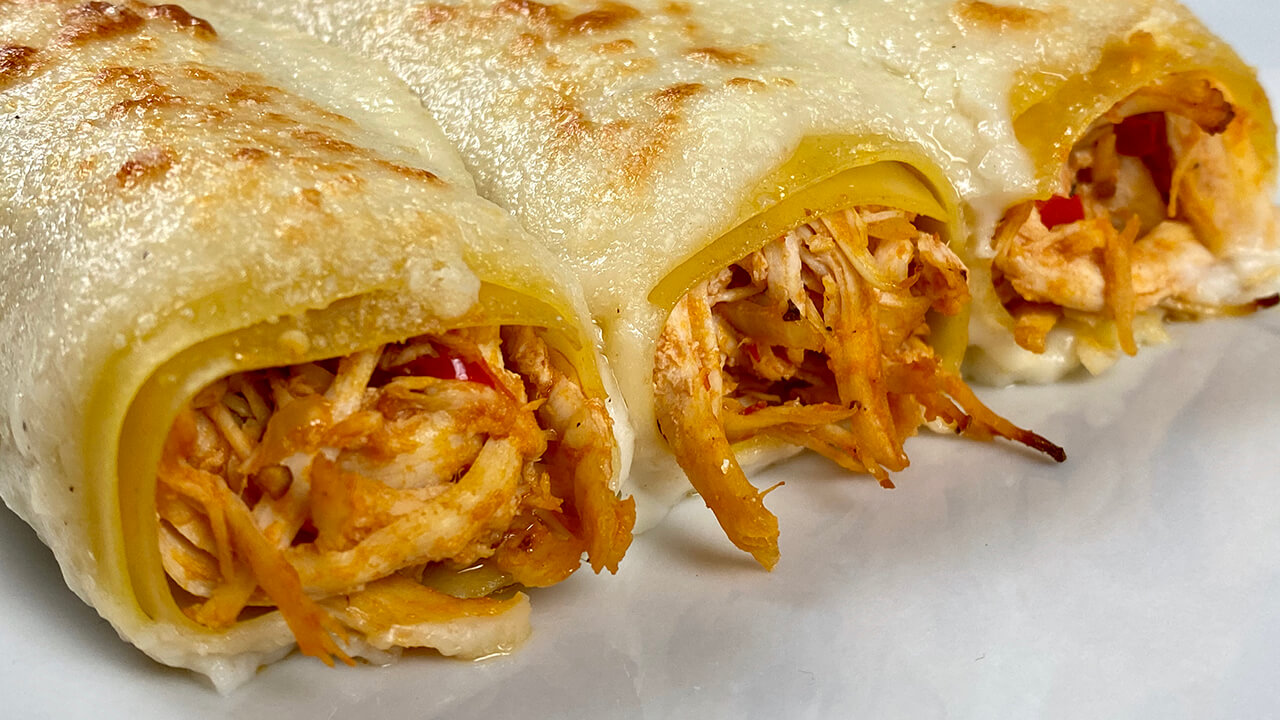 Share

Comment

Score

Save
Cannelloni is a very popular dish in Italian cuisine, it is one of the many ways that exist to eat pasta, basically cannelloni are rectangular or square plates of pasta, which are filled with meat, vegetables, fish, chicken, among others and then bathed in béchamel sauce and cooked in the oven.
Today we are going to prepare one of the many versions of cannelloni that exist, it is the chicken cannelloni, a perfect recipe to share a Sunday with the family, also these chicken cannelloni can be eaten as a unique dish with a good appetizer.
As for the chicken filling, what we should do is to use cooked chicken which we will then cook in a sauce to add more flavor.
We invite you to follow our step-by-step videos below, where we will show you in detail how to make chicken cannelloni! And if you have any doubts or questions, leave a comment and we will be happy to answer you!
Ingredients To Prepare Chicken cannelloni
8 cooked cannelloni plates
1 cooked and shredded chicken breast
1 onion cut into small squares
2 cloves of garlic cut very small
1 red bell pepper cut into small squares
70 ml. of crushed tomato
100 ml. of white wine
Parmesan cheese
Salt and pepper to taste
Olive oil
How To Make Chicken cannelloni
Step 1: We start preparing the filling for our chicken cannelloni, for this, in a saucepan over medium heat, add the oil until hot, then add the onion, garlic and cook for two minutes, then add the red bell pepper and cook for 4 minutes, add the crushed tomato and cook for 5 minutes more.
Step 1: How To Make Chicken cannelloni
Step 2: Add the cooked chicken and stir, then add the white wine and let the alcohol evaporate (2 minutes approximately), add salt and pepper to taste and continue cooking for 5 more minutes.
Step 2: How To Make Chicken cannelloni
Step 3: Take a cannelloni plate and at one end add 2 to 3 tablespoons of the chicken filling and roll up to close, repeat the process with all the cannelloni plates.
Step 3: How To Make Chicken cannelloni
Step 4: In an ovenproof dish, add a little of the bechamel sauce and place all our cannelloni, add bechamel sauce again on top, add the Parmesan cheese and take it to the oven to gratin, when we see that they are golden brown on top, we have our chicken cannelloni ready, remove from oven, let stand for a few minutes and serve.
Step 4: How To Make Chicken cannelloni
Tips To Prepare Chicken cannelloni
What can we accompany this recipe with?
Chicken cannelloni is a very filling dish, so serve it with a light salad as a starter and a good glass of white wine.
This recipe has no comments yet