Chimichurri
(0)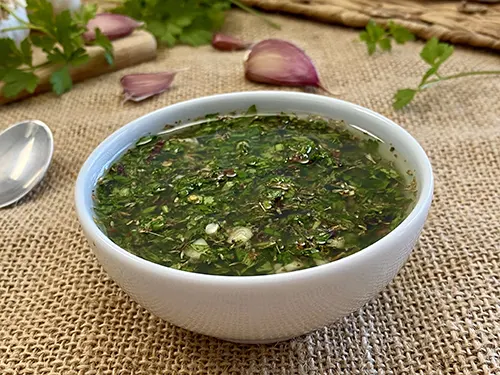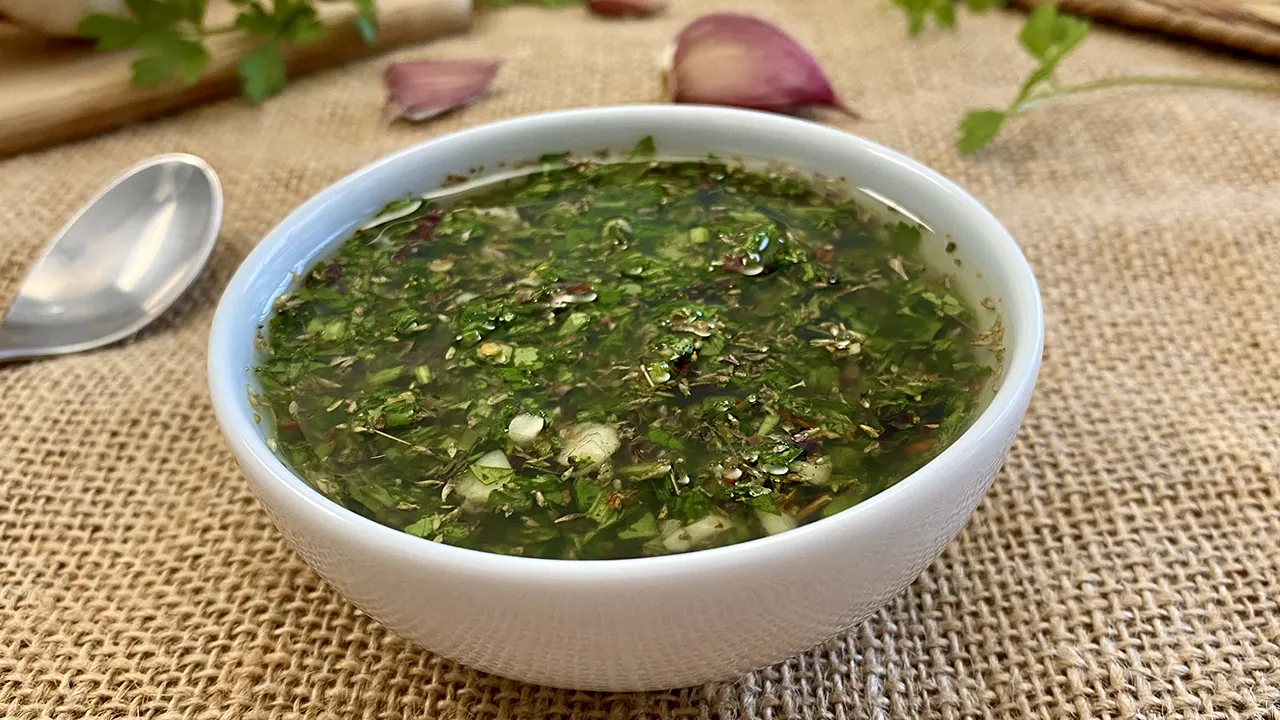 Share

Comment

Score

Save
Dish: Dip or Sauce
Quantity: 6
Country: Argentina
The chimichurri is a sauce or a kind of mash, which is never missing in Argentinean asados or barbecues, it is normally used to marinate meats or to season already grilled meats to enhance their flavor and best of all, it can be prepared in only 5 minutes.
There are many recipes for chimichurri, depending on the cook, you can add or eliminate certain ingredients or even modify the quantities.
Basically the chimichurri consists of a sauce that combines ingredients such as garlic, parsley, dried oregano, ground chili, sunflower oil, wine vinegar and salt, this would be the traditional basic recipe, but we can find versions where for example tomato or abundant paprika are added, to obtain a reddish colored chimichurri.
We can prepare a large amount of chimichurri and store it in an airtight glass container in the refrigerator, it will keep perfectly for at least two weeks, so that when we prepare a barbecue or a roast, we already have a great sauce ready to add more flavor.
We invite you to follow our step-by-step videos below, where we will explain in detail how to prepare chimichurri. And if you have any doubts or questions, leave us a comment and we will be happy to help you!
Ingredients To Prepare Chimichurri
2 cloves of garlic, very finely chopped
20 g. parsley, finely chopped
1 tablespoon of dried oregano
100 ml. sunflower oil
25 ml. of white wine vinegar
1/2 teaspoon ground chilli or cayenne pepper
Salt and pepper to taste
How To Make Chimichurri
Step 1: We begin the preparation of our chimichurri, for this, in a bowl add the garlic, parsley, oregano, chili or ground cayenne pepper, a little salt, a little pepper and mix, then add the sunflower oil, white wine vinegar, integrate very well and we have ready our rich and easy chimichurri!
Step 1: How To Make Chimichurri
Tips To Prepare Chimichurri
You can adapt the intensity of the spiciness to the chimichurri sauce, adding the amount you like the most.
When preparing chimichurri, it is traditional to use sunflower oil, but you can use olive oil as long as it has a very mild flavor.
What can we accompany this recipe with?
The chimichurri is perfect when preparing barbecues at home, although it also goes great with boiled potatoes, vegetables or as a marinade.
This recipe has no comments yet