Chinese fried rice
5.0

(1)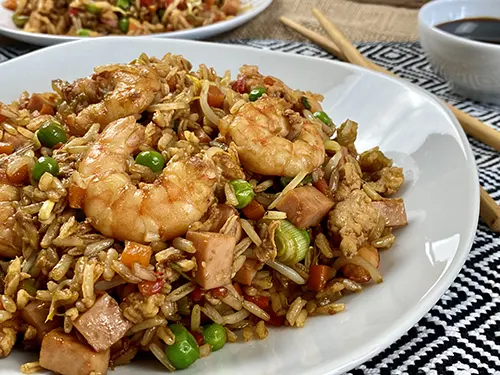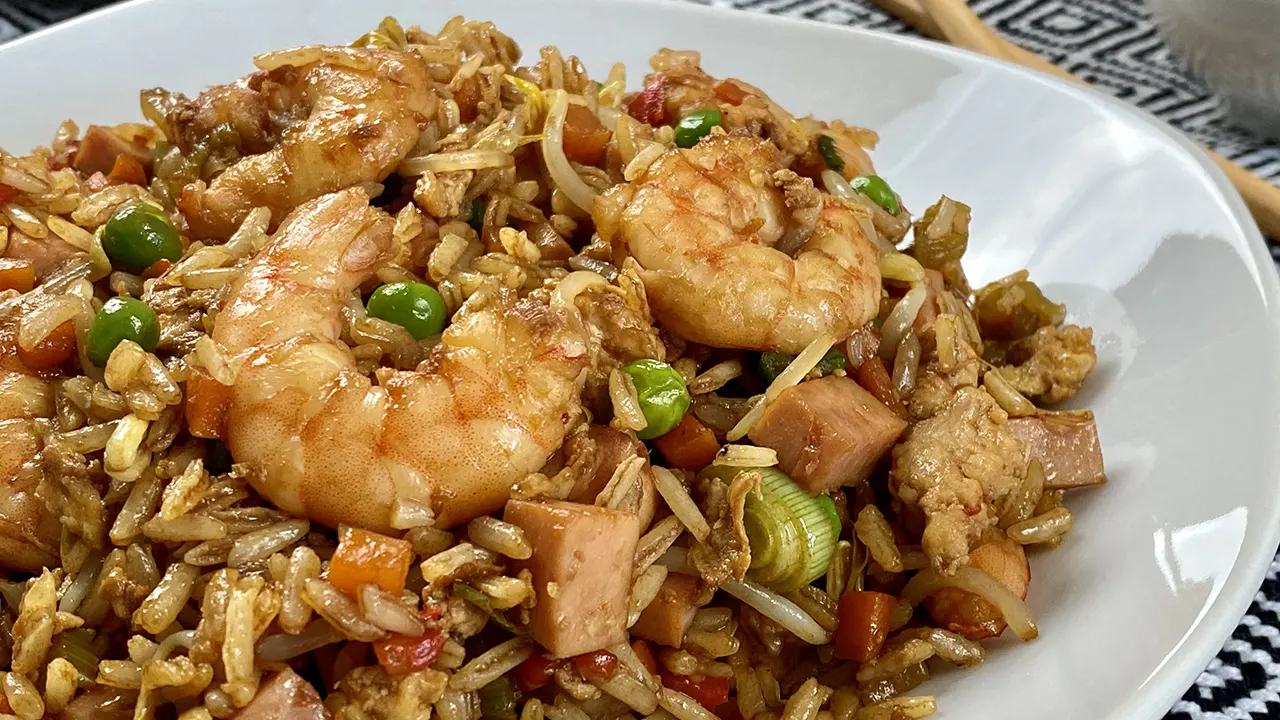 Chinese food in general is one of my favorites since childhood, I always prepare many of these Asian dishes at home, we love them!!! among the dishes I like the most are their famous spring rolls, their delicious Chinese bread or good noodles! and as for main dishes, I love sweet and sour chicken and chop suey! and of course you can never miss the fried rice dish!!!
Today I will show you how to prepare an authentic Chinese fried rice, one of the most popular dishes in Chinese gastronomy! A dish known worldwide, usually eaten alone or accompanied by some other dish such as chicken, pork or even seafood, its cooking is mainly done with a stir-fry in a wok with fat and high temperature, its main ingredients are carrot, egg, peas, bean sprouts, chicken, pork, shrimp ... and seasoned with soy sauce.
Legend has it that this dish was born thanks to some Chinese emigrants who, when they arrived at their destination, wanted to make the most of the leftovers of some food and that is why it occurred to them to mix all these leftovers with rice in order to make the most of them and that is where this delicious Chinese fried rice was born!
We invite you to follow our step by step videos below, where we will show you in detail how to make Chinese fried rice!!!
Ingredients To Prepare Chinese fried rice
2 cups of previously cooked white rice
1 diced chicken breast (if you don't have chicken you can use beef or pork)
300 g / 10,5 oz of peeled raw prawns or shrimps
250 g / 8,8 oz of ham cut into small cubes
1/2 red bell pepper cut into small squares
1 celery stalk cut into small squares
2 carrots cut in small squares
1 egg (beat the egg, make an omelet in a frying pan and cut into pieces)
1 sprig of chives
150 g / 5,3 oz of peas (preferably frozen)
120 g / 4,2 oz of bean sprouts
Small piece of grated ginger (about 3 cm)
2 grated garlic cloves
5 tablespoons of soy sauce
2 tablespoons dark soy sauce
1 tablespoon sesame oil
2 tablespoon vegetable oil
How To Make Chinese fried rice
Step 1:
We begin the preparation of our fried rice, for this, in a hot wok add the vegetable oil and sesame oil, add the chicken cubes and as soon as it is cooked, remove it from the wok and set aside.
Step 1: How To Make Chinese fried rice
Step 2:
In the same wok, add a little more oil and incorporate the carrot, celery and let cook for 2 minutes, then add the grated garlic, grated ginger, red bell pepper, stir and cook for 2 more minutes, add the peas, bean sprouts, light soy sauce and stir again.
Step 2: How To Make Chinese fried rice
Step 3:
Add the prawns and cook for 2 minutes, then add the reserved chicken, ham, egg and stir well.
Step 3: How To Make Chinese fried rice
Step 4:
Add the rice and integrate with the remaining ingredients, then add the dark soy sauce and continue stirring until the rice takes a uniform color, finally add the chives stir and remove from heat, serve and we have our delicious chinese fried rice ready!!! enjoy!!!
Step 4: How To Make Chinese fried rice
Tips To Prepare Chinese fried rice
Before starting to prepare the chinese fried rice, remember to have all the ingredients chopped.
If you don't have a wok to prepare the fried rice, you can use a pot without problems, as long as you follow all the steps correctly.
You can prepare the white rice the day before, I leave you here my recipe on how to prepare white rice.
Use a quality soy sauce, as it is one of the main flavors of this fried rice.
It is not necessary to use salt, the soy sauce provides the salty point.
For this chinese fried rice recipe, we use prawns, but you can also use shrimps.
What can we accompany this recipe with?
Accompany this delicious chinese fried rice with a sweet and sour chinese chicken and as an appetizer you can prepare some delicious spring rolls!
This recipe has no comments yet