Falafel
(0)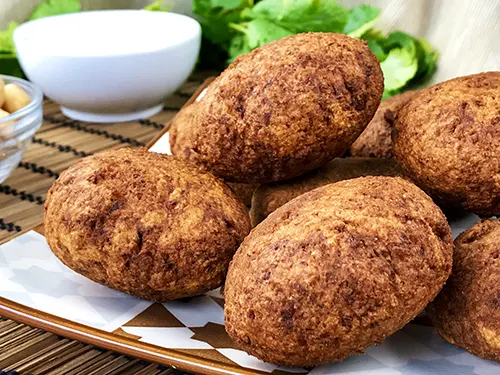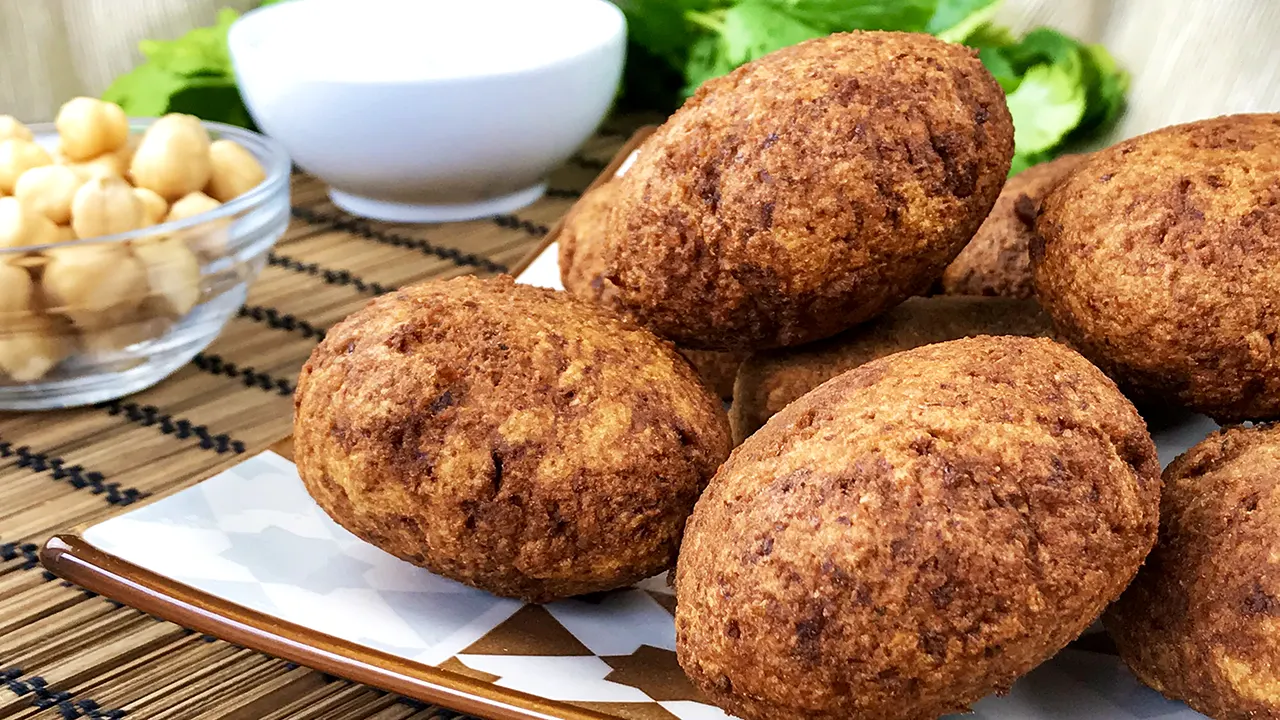 Share

Comment

Score

Save
If we talk about vegetarian recipes, perhaps the most famous of them is the falafel, a kind of croquette based on chickpeas or beans, to which basic ingredients such as garlic and onion are added and seasoned with some spices such as parsley, coriander and cumin.
The preparation of the falafel, although it has its art, is not complicated at all, first prepare a homogeneous dough with the ingredients mentioned above (and those detailed below in the recipe), mold the dough into balls or mini burgers and fry until golden brown.
An important point when preparing this falafel recipe is that the chickpeas must be raw but hydrated at least 24 hours in advance, it is not recommended to use cooked chickpeas because the result will be very light and difficult to work with.
We invite you to follow our step-by-step videos below, where we will show you how to prepare falafel! And surprise your family and friends with this delicious recipe and the flavors of the Middle East.
Finally we leave you this yogurt sauce recipe ideal to accompany the falafel, it is made with very few ingredients and you will have it ready in 5 minutes.
Ingredients To Prepare Falafel
400 gr. raw chickpeas (hydrated in water 24 hours in advance)
2 tablespoons fresh parsley
2 tablespoons fresh cilantro
1 onion
1 garlic clove
1 and 1/2 tablespoons cumin powder
10 gr. baking powder
50 gr. of chickpea flour
1/2 cup of the water where they were hydrated
Vegetable oil
Salt and pepper to taste
How To Make Falafel
Step 1:
We begin the preparation of our falafel, for this, in a blender we add all the ingredients: chickpeas, parsley, cilantro, onion, garlic, cumin, baking powder, water, salt and pepper, we grind everything until we obtain a homogeneous mixture.
Step 1: How To Make Falafel
Step 2:
We take a portion of the mixture, pass it through the chickpea flour and shape it into mini hamburgers or balls as I show you in the video, repeat the process with the whole mixture.
Step 2: How To Make Falafel
Step 3:
In a saucepan add vegetable oil at medium high temperature and introduce the falafel until golden brown (approximately 4 minutes) then remove them from the oil and we have our falafel ready!
Step 3: How To Make Falafel
Tips To Prepare Falafel
Do not exceed the batter in the chickpea flour so that they do not remain dry, it is used only to help manipulate and shape the falafel.
It is important to hydrate the chickpeas 24 hours in advance and not to use canned chickpeas.
What can we accompany this recipe with?
Falafel is traditionally eaten inside a pita, being a vegetarian version of the classic durum, but you can eat it as an appetizer with yogurt sauce or you can use it to give a crunchy touch to a salad.
This recipe has no comments yet