Oatmeal and banana pancakes
(0)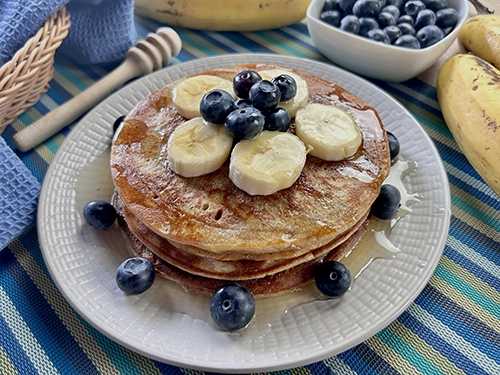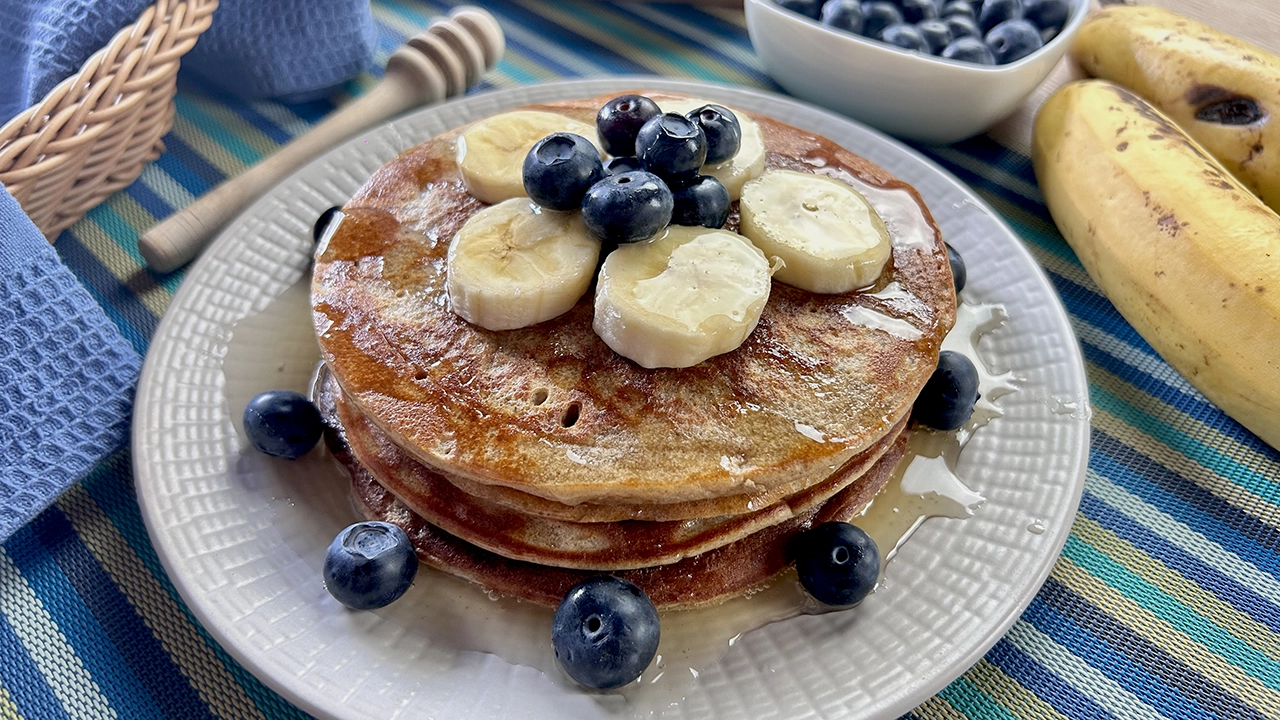 Oatmeal and banana pancakes are a healthier alternative to the traditional pancakes, they are just as delicious, fluffy and perfect for our breakfasts or snacks.
The oatmeal and banana pancakes are healthier because they do not have wheat flour, but we replace it with oat flour that we can buy ready-made in supermarkets, additionally we can replace whole milk with almond milk and sugar with honey, although this time we only replace the flour.
As for what to accompany the oatmeal and banana pancakes, it is a bit to taste, for example we can use berries, banana, syrups, honey or whatever we have available at hand, you can also add a little powdered sugar, it goes great.
Preparing oatmeal and banana pancakes is not complicated at all, we don't even need to have any cooking knowledge, since we only need to process all the ingredients in the blender and then cook the pancakes in a pan for a few minutes.
One of the tricks to make these oatmeal and banana pancakes perfect is to cook them over low heat, because unlike traditional pancakes, they brown much faster, so we must be careful not to burn them.
We invite you to follow our step by step videos below, where we will show you in a simple way, how to make oatmeal and banana pancakes and if you have any questions, do not hesitate to leave us your comment and we will gladly help you.
Ingredients To Prepare Oatmeal and banana pancakes
100g oat flour
1 banana cut into pieces
1 banana cut into rounds for garnish
150ml milk
1 egg
1 tablespoon sugar
40 ml olive oil
5g baking powder
1 tablespoon vanilla essence
Honey to taste
Blueberries to taste
How To Make Oatmeal and banana pancakes
Step 1:
We begin the preparation of our oatmeal and banana pancakes, for this, in the glass of the mixer we are going to add the milk, egg, oil, vanilla essence, banana, oat flour, baking power, sugar and beat everything very well.
Step 1: How To Make Oatmeal and banana pancakes
Step 2:
In a skillet over medium low heat, add a little oil and then add a little of our mixture as shown in the video (use low heat because they brown very quickly) when we see that bubbles have formed on the surface of the pancake, we turn it over and cook 1 minute, repeat this step until all the pancake mixture is used up.
Step 2: How To Make Oatmeal and banana pancakes
Step 3:
Serve the pancakes on a plate, add on top some banana, some blueberries, a good drizzle of honey and now we just have to enjoy these delicious oatmeal and banana pancakes.
Tips To Prepare Oatmeal and banana pancakes
To prepare this recipe of oatmeal and banana pancakes, we must use oat flour and for this we have 2 options, buy the oat flour already ready in supermarkets or prepare it ourselves at home, this is nothing else than to process in a grinder the oat flakes until we obtain a flour texture.
When cooking the oatmeal and banana pancakes, we have to use a low heat, as they brown very fast and we can burn them.
Mix very well all the ingredients until they are well integrated, if you see that the mixture is too thick, you can always add a little more milk.
What can we accompany this recipe with?
You can serve these delicious oatmeal and banana pancakes with whatever you like, jams, syrups, honey, cream, ice cream, red fruits or also with savory products such as ham, bacon, cheese, etc.
This recipe has no comments yet