Sautéed asparagus
(0)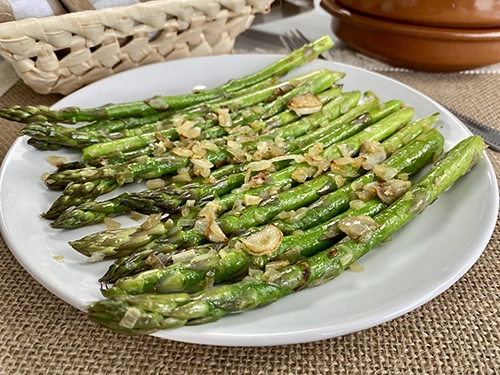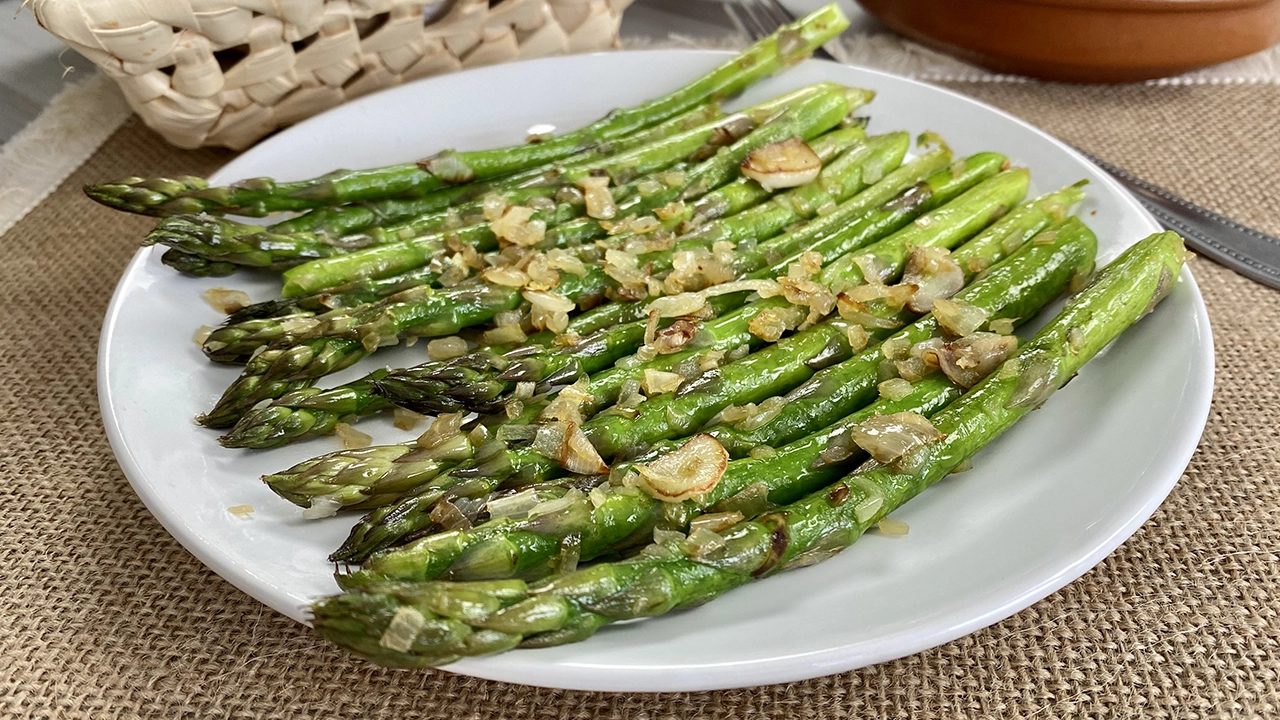 Share

Comment

Score

Save
We always recommend including vegetables in our daily meals, as they provide many benefits to our body and among them are the asparagus and is that apart from allowing us to prepare many recipes, they are very low in calories, so they are ideal if we are looking to lose weight.
Today we will prepare sautéed asparagus, a recipe that has almost everything, it is easy to prepare, it is quick to make, it is delicious and it is also ideal to accompany any food dish such as fish, meat, pork or poultry.
To prepare sautéed asparagus, we are only going to use 4 ingredients, they are onion, garlic, green asparagus and a good quality olive oil, as for the asparagus we recommend you that they are of the thickest, since its flavor and texture is much better than the asparagus that are thinner.
Another thing we must do to prepare this recipe, is to remove the stalk of the asparagus, to do this, we simply go to the bottom of the asparagus and bend down, we will see that it will be cut just where it should be cut (this stalk can reserve them to make a cream of vegetables) the rest we reserve it to prepare the recipe.
We invite you to follow our step by step videos, where we will show you in detail how to prepare sautéed asparagus, a healthy, simple and delicious recipe to accompany our meals.
Ingredients To Prepare Sautéed asparagus
20 wild asparagus
1/4 diced onion
1 sliced garlic
Salt to taste
Olive oil
How To Make Sautéed asparagus
Step 1:
We begin the preparation of our sautéed asparagus, for this, in a skillet over medium heat and with a little olive oil, add the onion, garlic and cook for 3 minutes, then add the asparagus and cook for 5 minutes, after 5 minutes add a little salt, cook for 2 more minutes, remove from heat and now we just have to enjoy these delicious sautéed asparagus!
Step 1: How To Make Sautéed asparagus
Tips To Prepare Sautéed asparagus
These sautéed asparagus should be just right, so you will see that when you eat them they are quite crunchy, so do not exceed the cooking time, although if you like them softer, you can cook them longer.
What can we accompany this recipe with?
These sautéed asparagus are perfect to serve with fish, meat, poultry or as a main dish.
This recipe has no comments yet