Steak Tartar
(0)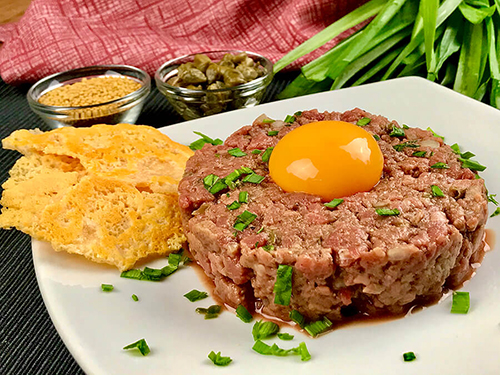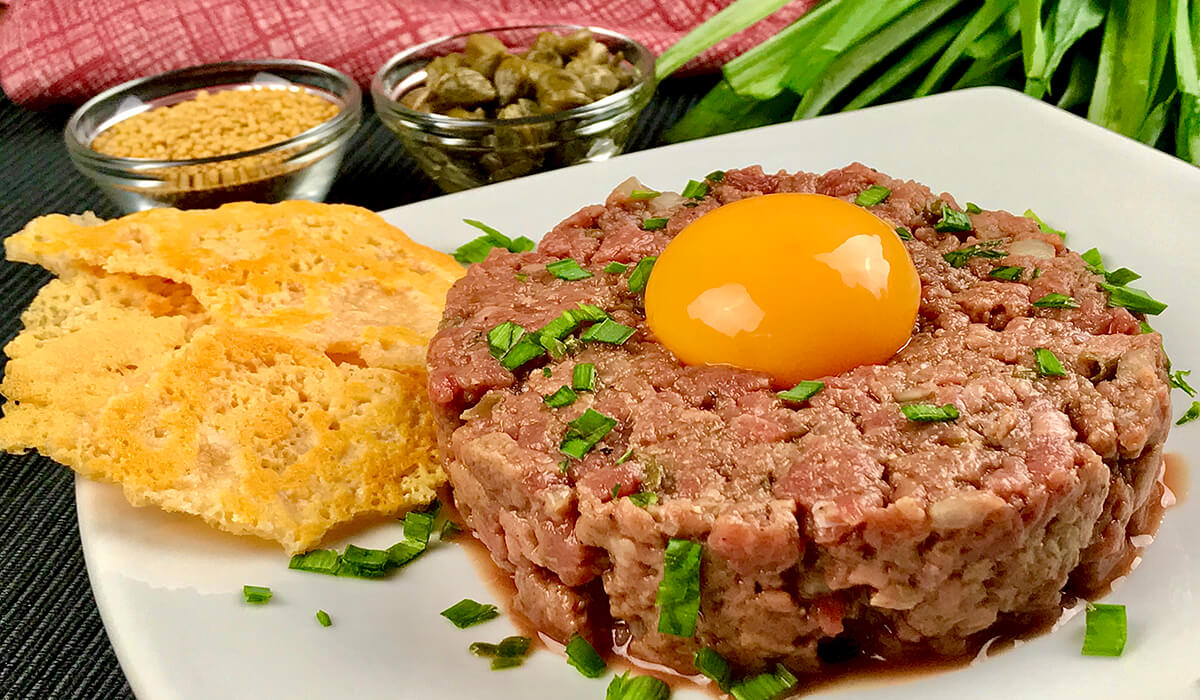 Share

Comment

Score

Save
One of my favorite dishes are those served raw, and among them the one I love the most is the steak tartar, a very well known dish in French gastronomy.
The steak tartar is a minced meat marinated with some sauces and pickles and served with a raw egg yolk, there are currently many restaurants where we can find this famous dish, the key to everything is to use a quality raw material, in this case a good beef tenderloin.
We invite you to follow our step by step videos, where we will show you the whole process to prepare this delicious steak tartar!
Ingredients To Prepare Steak Tartar
400 gr. of beef sirloin steak
1 egg yolk
1 teaspoon of capers finely chopped
1 onion, finely chopped
4 tablespoons Perrins or Worcestershire sauce
1 teaspoon Dijon mustard
1/2 teaspoon salt
Chives
Pepper to taste
How To Make Steak Tartar
Step 1: We begin the preparation of our steak tartar, for this, we will cut our beef tenderloin into very small pieces.
Step 1: How To Make Steak Tartar
Step 2: In a bowl we will place the chopped sirloin, onion, capers, perrins sauce, mustard, pepper, salt and mix everything to integrate (reserve for 15 minutes in the refrigerator so that the ingredients macerate well our meat).
Step 2: How To Make Steak Tartar
Step 3: After the marinating time, remove from the refrigerator and with the help of a round mold we are going to go plating our steak tartar, with the fingers we are going to sink a little in the center of the meat to later add the egg yolk.
Step 3: How To Make Steak Tartar
Step 4: Finally we can add a little fresh chives on top to add color and enjoy the exquisite steak tartar!
Step 4: How To Make Steak Tartar
Tips To Prepare Steak Tartar
To be successful when preparing a steak tartar, you must use a quality raw material, the most recommended is a good beef tenderloin, remember to chop very finely with a very sharp knife.
The maceration time is important because it will bring all the flavors to our steak tartar.
Do not add more quantities of the marinade ingredients as we do not want to mask the flavor of the meat.
What can we accompany this recipe with?
Serve this delicious Steak Tartar with a parmesan crisp or with toasted bread.
This recipe has no comments yet