Tacos al pastor
(0)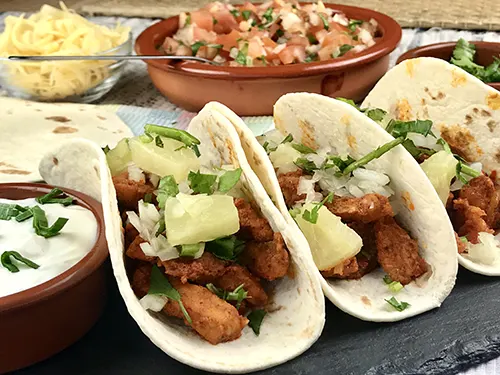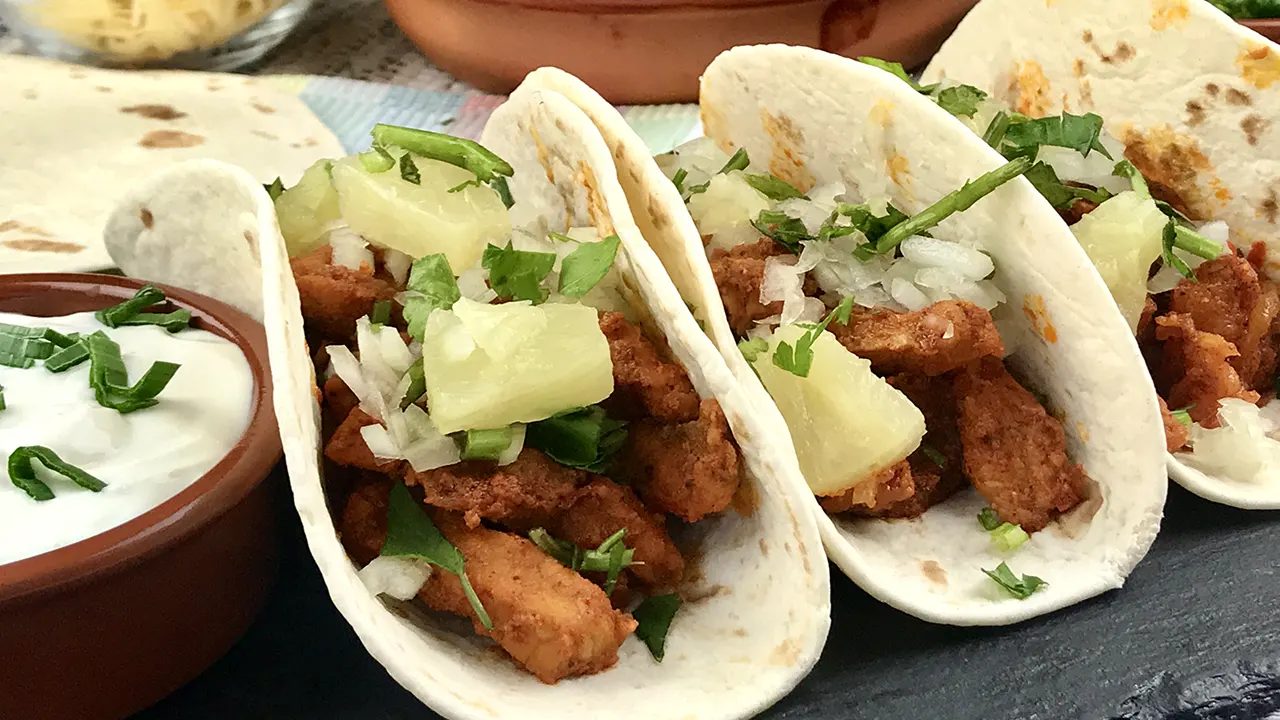 Share

Comment

Score

Save
Mexican cuisine is very famous and appreciated internationally, it is a cuisine with an authentic and delicious flavor that makes it unique, although there are many dishes that define this cuisine, today we are going to elaborate its star dish, a dish that was chosen as the king of Mexican food and was even ranked as the best dish in the world in the ranking of Taste Atlas, beating pizza and Italian lasagna, it is the Tacos al Pastor.
These tacos al pastor are made using marinated pork meat with some spices such as achiote paste, oregano, cumin, guajillo chili, among others, it is a very easy recipe to prepare and ideal for a delicious dinner or to spend a Sunday with the family.
We invite you to follow our step by step videos, where we will show you the whole process to make these popular tacos al pastor!
Ingredients To Prepare Tacos al pastor
600 g. pork cut in strips
30 g. guajillo chili (cook the guajillo chile in hot water for 15 minutes or until soft)
2 garlic cloves
30 ml. of alcohol vinegar
30 ml. pineapple juice
1 tablespoon oregano
1 tablespoon cumin
1 tablespoon of powdered cloves
30 g. achiote paste
Pineapple chunks
1 onion cut into julienne strips
Fresh cilantro
1 onion chopped in small pieces (for the filling)
12 wheat tortillas for tacos
1/2 tablespoon salt
Pepper to taste
How To Make Tacos al pastor
Step 1: We begin the preparation of our tacos al pastor, for this, in a blender we incorporate the guajillo chile, two cloves of garlic, alcohol vinegar, pineapple juice, pepper, oregano, cumin, clove powder, salt, achiote paste and beat until all our ingredients are integrated.
Step 1: How To Make Tacos al pastor
Step 2: In a bowl we are going to place the pork meat cut in thin strips and we are going to add the previously prepared marinade, mix and let it rest in the refrigerator for 4 hours.
Step 2: How To Make Tacos al pastor
Step 3: In a frying pan with medium-high temperature, we are going to place our marinated pork and then we are going to place the onion cut in julienne strips and the pineapple pieces, let it cook for 15 minutes.
Step 3: How To Make Tacos al pastor
Step 4: Finally we will assemble our tacos, for this we take a tortilla, add the pork, onion, pineapple and cilantro, repeat this process with each of the tortillas and we have ready our tacos al pastor, I hope you enjoy it!
Step 4: How To Make Tacos al pastor
Tips To Prepare Tacos al pastor
Aunque la receta tradicional de los tacos al pastor es de cerdo, puedes sustituirla por carne de ternera o pollo.
La pasta de achiote puedes encontrarla en supermercados latinos al igual que el chile. guajillo.
Puedes utilizar tanto piña natural o piña en conserva.
Cocina el chile guajillo en agua caliente por un lapso de 15 minutos o hasta que su textura sea blanda.
Para obtener un mayor sabor, deja marinando desde el día anterior la carne de cerdo.
What can we accompany this recipe with?
You can accompany these delicious Tacos al Pastor with some delicious chili and cheese nachos.
This recipe has no comments yet