Tequenos
(0)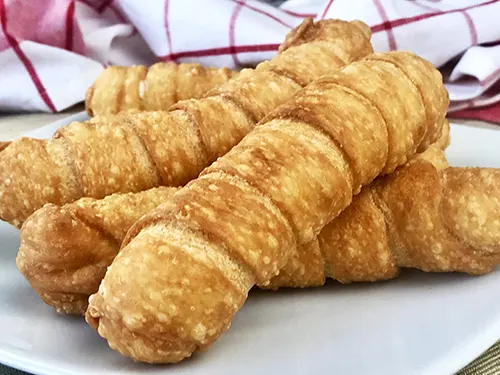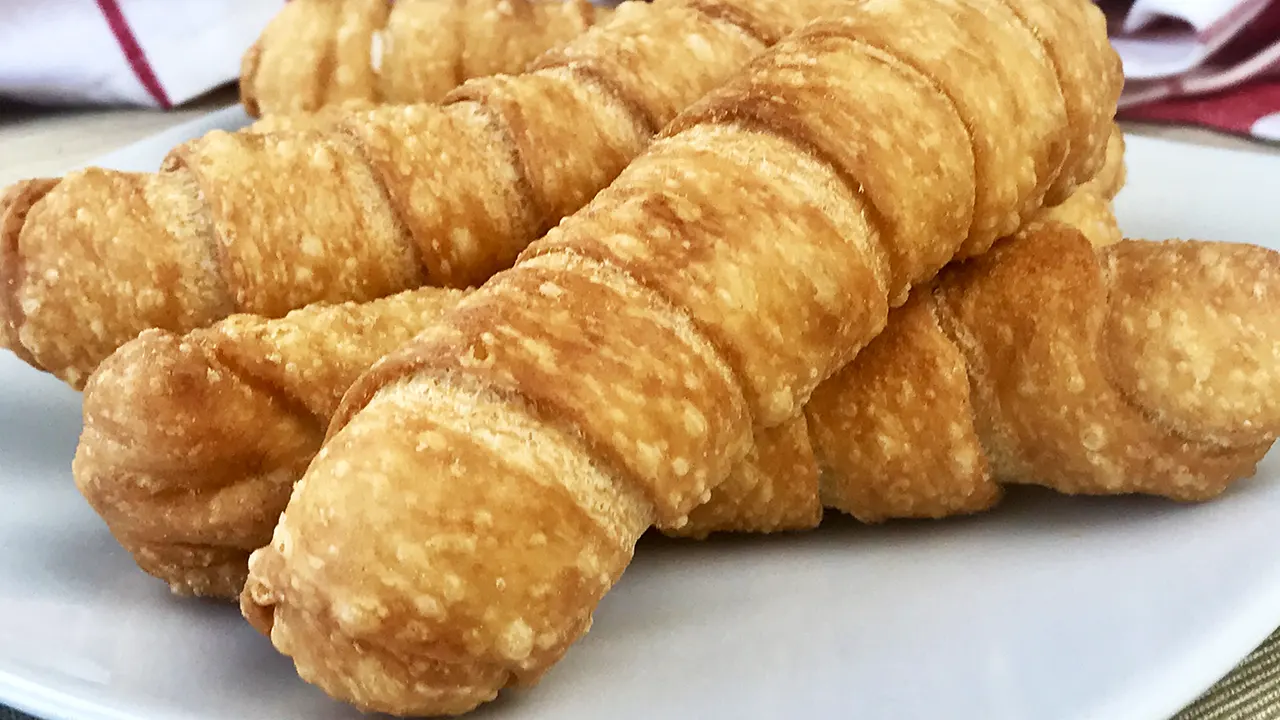 Share

Comment

Score

Save
Dish: Appetizer
Quantity: 20
Country: Venezuela
Venezuelan cheese tequenos consist of cheese sticks wrapped in a dough made of wheat flour and fried until golden brown, they are the kings of Venezuelan parties and a appetizers that has already become famous worldwide.
The recipe to make these delicious Venezuelan tequenos is very simple, first we prepare the dough which we only have to knead for about 5 minutes and let it rest for 30 minutes, then we will wrap our cheese sticks (you can follow our step by step video to make it easier) and we finish with friendolos.
As for the cheese for the tequenos, in Venezuela we use a semi-hard and semi-salty white cheese, it is not easy to get it outside Venezuela so we can substitute it with soft cheese or Latin cheese or in the last case mozzarella or gouda cheese.
We can also prepare tequenos of other flavors, either sweet tequenos, where the most popular are those filled with chocolate or nutella and those filled with guava (typical fruit of Venezuela and Latin America) or guava and cheese, you can also prepare other options of savory tequenos, where the most commonly prepared are those combined with cheese, such as ham and cheese tequeno or bacon and cheese tequeno.
We invite you to follow our step-by-step videos below, where this time we will show you how to prepare Venezuelan cheese tequenos!
Ingredients To Prepare Tequenos
500 gr. of all-purpose flour
250 ml. of warm milk
10 gr. of baking powder
2 egg yolks
300 gr. of soft cheese
15 gr. salt
100 gr. of melted unsalted butter
Vegetable oil
How To Make Tequenos
Step 1:
We begin the preparation of our tequenos, for this, in a bowl place the flour, salt, baking powder and mix, then add the egg yolks, warm milk and melted butter, mix until all the ingredients are integrated and a homogeneous dough is obtained.
Step 1: How To Make Tequenos
Step 2:
On a flat surface, turn the dough and knead for 5 minutes to form gluten (let it rest for 30 minutes).
Step 2: How To Make Tequenos
Step 3:
Cut the cheese into approximately 1 cm. sticks.
Step 3: How To Make Tequenos
Step 4:
After the resting time, we will stretch our dough to form a rectangle, then with the help of a pizza cutter, we will cut strips of approximately 2 cm.
Step 4: How To Make Tequenos
Step 5:
It is time to form our tequenos, for this we take a cheese stick together with a strip of the dough and we will wrap it as I show you in the video (we repeat the process with all the cheese sticks).
Step 5: How To Make Tequenos
Step 6:
In a saucepan with vegetable oil at medium temperature, we are going to add our tequenos and let them cook until golden brown.
Step 6: How To Make Tequenos
Step 7:
Remove from the oil and place in a dish with absorbent paper to remove excess fat and our cheese tequeños are ready!!! enjoy this delicacy!!!!
Step 7: How To Make Tequenos
Tips To Prepare Tequenos
For this Venezuelan cheese tequeños recipe, you can use soft cheese or mozzarella cheese, preferably the former since it has more flavor.
When cooking the cheese tequeños, try to cook them at a medium temperature, so that they brown and cook perfectly.
What can we accompany this recipe with?
Venezuelan cheese tequeños are a perfect choice as an appetizer or for a delicious snack.
This recipe has no comments yet