Tzatziki
(0)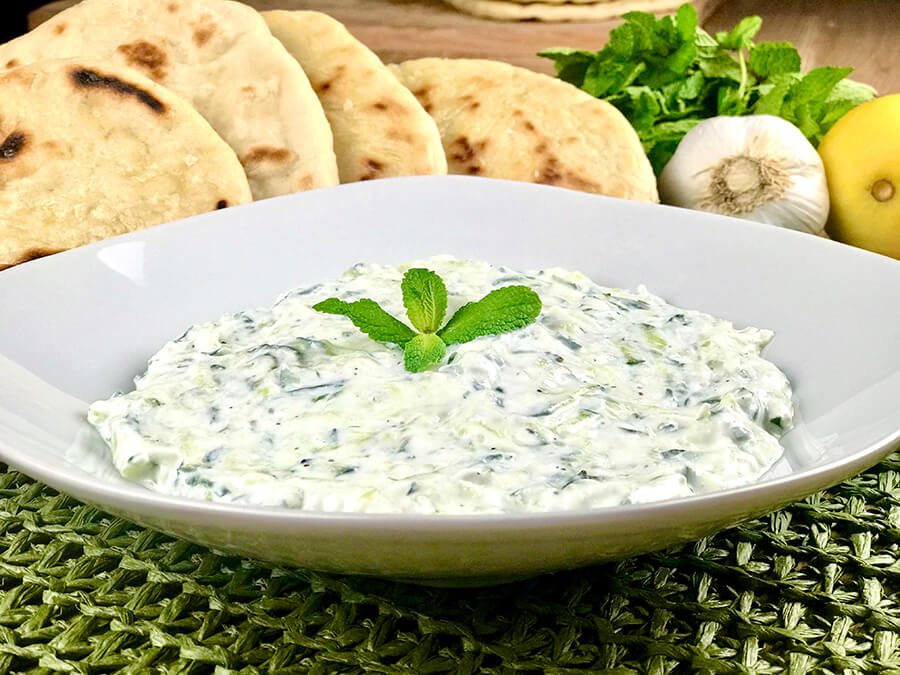 Share

Comment

Score

Save
Dish: Dip or Sauce
Quantity: 4
Country: Greece
Greek gastronomy is based on the Mediterranean diet although it also has influences from both east and west, it is characterized by the use of fresh quality foods such as various herbs and spices, its good olive oil and the use of a large number of vegetables such as tomatoes, eggplants, among others.
Among its delicious dishes we can highlight the moussaka, a kind of lasagna based on meat and eggplant that is delicious, its famous Greek salad, super fresh and with many contrasts of flavors and textures! Its irresistible feta cheese, its spectacular gyros, a pita bread stuffed with tomatoes, lettuce, onion, lamb, french fries... and the tzatziki sauce that is spectacular and that we will show you how to prepare today.
The tzatziki is a cream made from cucumber and Greek yogurt that is delicious and is usually served as a starter with pita bread.
We invite you to follow our step by step videos, where we will show you how to make Greek tzatziki!!! And if you have any questions, don't hesitate to leave us a comment!!!
Ingredients To Prepare Tzatziki
1 cucumber
250 gr. Greek yogurt
1 grated garlic clove
1 tablespoon chopped mint
Juice of half a lemon
Salt and pepper to taste
How To Make Tzatziki
Step 1: We begin the preparation of our tzatziki, for this, we grate our cucumber and let stand in the refrigerator for 2 hours to release all its juices.
Step 1: How To Make Tzatziki
Step 2: After this time, we are going to take with our hands the grated cucumber and we are going to press with our hands to squeeze all its juice.
Step 2: How To Make Tzatziki
Step 3: Once we have squeezed all the juice from our cucumber, we are going to place it in a bowl and we are going to add the yogurt, garlic, salt, pepper, mint, lemon juice and mix everything.
Step 3: How To Make Tzatziki
Step 4: We let it rest in the fridge for 30 minutes and we have our delicious tzatziki ready!
Step 4: How To Make Tzatziki
Tips To Prepare Tzatziki
For this Tzatziki recipe we use Greek yogurt, if you don't have it, you can use natural yogurt without sugar.
It is important to let the cucumber rest in the refrigerator to expel all its water.
What can we accompany this recipe with?
You can accompany this delicious tzatziki with pita bread or a delicious naan bread.
This recipe has no comments yet