Vegetable Stir-Fry
(0)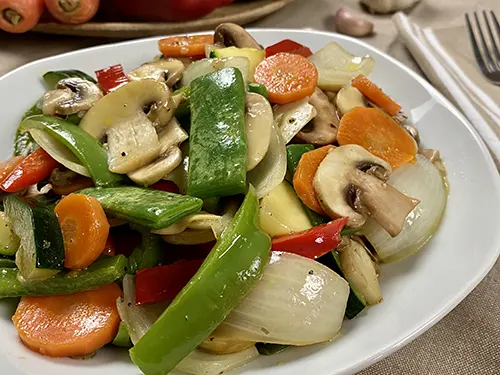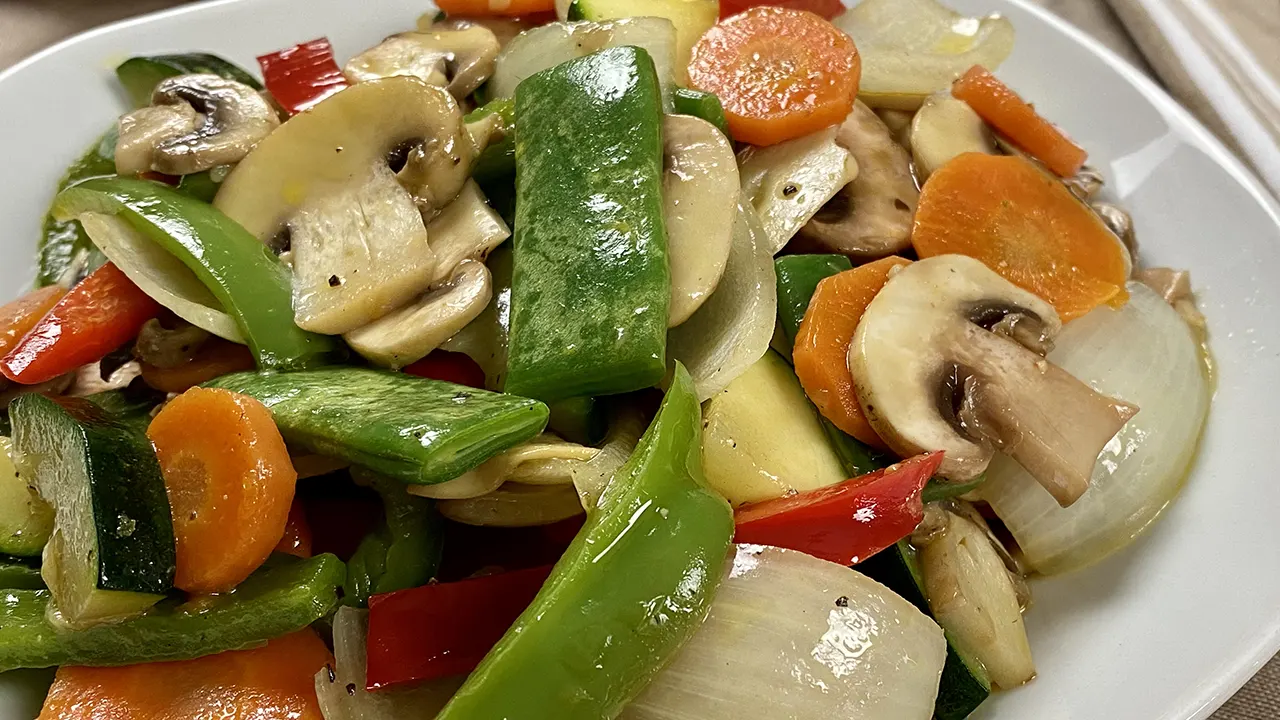 Share

Comment

Score

Save
I love to prepare stir-fries at home and not only because they are delicious and healthy, but also because they are dishes that often get us out of trouble, since their preparation is super simple and quick.
We can prepare stir-fry of chicken, meat or pork and vegetables, stir-fry of seafood and vegetables or only vegetable stir-fry, which is the recipe that we show you to prepare today, it is a very easy, delicious and quick dish to prepare, besides being very healthy and low in calories, which makes it ideal for diet regimes.
The stir-fry of vegetables or sautéed vegetables, allows us to add a multitude of vegetables to our taste, it is a dish that we can take it alone or as an accompaniment to many meals, we can also use it to prepare savory toasts, include it in sandwiches, hamburgers, fill omelets, etc.. As for its cooking, there are those who like the vegetables to be al dente (as in my case) and there are those who prefer to cook them a little more, and this is to taste.
As for what fat to use to prepare this stir-fry vegetables, I recommend using extra virgin olive oil, for a healthier result. As for the vegetables, it goes a little to taste, in today's recipe we use zucchini, onion, peppers, beans, mushrooms, and carrots, but you can include other vegetables such as broccoli, cauliflower, spinach, cabbage and a long etcetera.
We invite you to follow our step-by-step videos below, where we will show you how to prepare vegetable stir-fry or sautéed vegetables!! and if you have any doubts or questions, you can send them to us by writing them at the end of the recipe!
Ingredients To Prepare Vegetable Stir-Fry
1 onion, cut into large chunks
1/2 red bell pepper cut into strips
1/2 green bell pepper cut into strips
1 carrot cut into rounds
1/2 zucchini cut into pieces
100 g. / 3,5 oz. of sliced mushrooms
6 green beans cut into pieces
2 whole garlic cloves with skin
Salt and pepper to taste
Olive oil
How To Make Vegetable Stir-Fry
Step 1: We begin the preparation of our vegetable stir-fry, for this, in a pan with a little olive oil and medium heat, add the garlic cloves, let cook a couple of minutes and remove (with this what we do is to add flavor to the oil, so that it is then absorbed by the stir-fry).
Step 1: How To Make Vegetable Stir-Fry
Step 2: In the same pan add the carrot and cook for 2 minutes, then add the green bell pepper, red bell pepper, stir and cook for 3 minutes, then add the zucchini, beans and cook for 4 more minutes.
Step 2: How To Make Vegetable Stir-Fry
Step 3: Add the mushrooms, onion and stir, add a little salt, a little pepper, stir again and let cook for 5 minutes, then remove from heat and we have ready our rich and healthy stir-fry vegetables, enjoy!
Step 3: How To Make Vegetable Stir-Fry
Tips To Prepare Vegetable Stir-Fry
In this vegetables stir-fry we use red bell pepper, green bell pepper, onion, carrot, zucchini, mushrooms and beans, but you can add the vegetables that you like the most, such as cauliflower, broccoli, spinach, cabbage, etc.
It is important not to exceed the cooking time of the vegetables, as it is a stir-fry, they must be al dente, if you follow the cooking times that we give you in this recipe, it will be perfect.
Wash the vegetables very well before starting to prepare the recipe.
For this vegetable stir-fry recipe, I recommend using good quality extra virgin olive oil.
You can add more flavor to this vegetable stir-fry by using spices such as oregano, thyme or whatever you like.
What can we accompany this recipe with?
These vegetable stir-fry are perfect to accompany meat, fish, chicken, etc. You can also use it as a unique dish! You can also use it to prepare salty toasts, sandwich fillings, hamburgers, etc.
This recipe has no comments yet