Lo Mein
(0)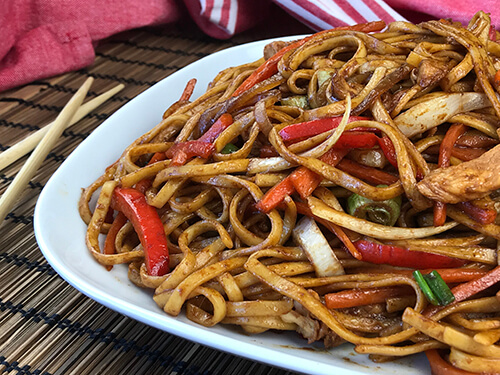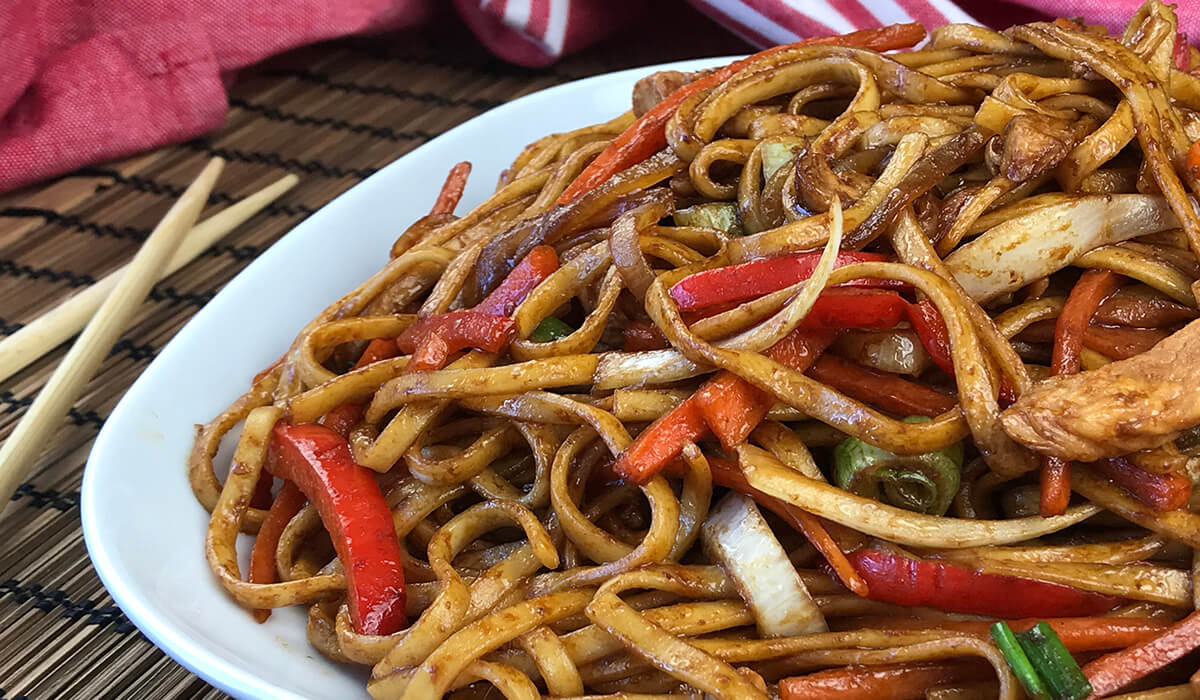 Share

Comment

Score

Save
If you like Chinese food you no longer have to go to a restaurant to enjoy its exquisite dishes, most of them are very easy to prepare at home, as is the case of this popular lo mein, delicious egg noodles that are fried in an exquisite sauce, accompanied by vegetables and proteins of your choice such as chicken, shrimp or pork, among others.
This lo mein is a very easy and quick recipe to prepare, we start with a marinade based on light soy sauce, dark soy sauce, sesame oil, mirin and sugar, which we will use to fry our egg noodles.
We will also accompany them with some vegetables such as peppers and carrots and a protein of our choice, in this Lo Mein recipe we will use chicken, the truth is that it is a wonderful dish, its flavors will delight you.
Follow our step-by-step videos below and learn how to prepare lo mein, surprise your guests with authentic Asian flavors.
And if you love Asian recipes, we have many more recipes for you!!! like this classic sweet and sour pork, another of the most popular of this cuisine!!! Or this great Chinese fried rice, a dish with an irresistible flavor!!!
Ingredients To Prepare Lo Mein
1 chicken breast cut into strips
3 carrots cut into thin strips
1 red bell pepper cut into thin strips
1 onion cut into julienne strips
480 g. of cooked egg noodles
1 spring onion, chopped
1 teaspoon garlic powder
3 tablespoons dark soy sauce
3 tablespoons light soy sauce
1 tablespoon cornstarch
1 tablespoon sesame oil
1 tablespoon mirin
1 tablespoon sugar
Vegetable oil
How To Make Lo Mein
Step 1: We begin the preparation of our lo mein, for this, in a bowl or container, we are going to prepare our marinating sauce, for this we add the dark soy sauce, light soy sauce and cornstarch, mix until integrated, then add the sesame oil, mirin, garlic powder, sugar and mix again.
Step 1: How To Make Lo Mein
Step 2: In a bowl we are going to place the chicken and we are going to add 2 tablespoons of our sauce, integrate and reserve (reserve the rest of the sauce).
Step 2: How To Make Lo Mein
Step 3: In a wok at medium high temperature, we are going to place the oil until hot, then add the onion and let it cook for 4 minutes, then add the chicken and cook until golden brown (8 minutes approximately).
Step 3: How To Make Lo Mein
Step 4: Add the carrot and peppers, stir and cook for 4 minutes (the vegetables should be al dente).
Step 4: How To Make Lo Mein
Step 5: Add the noodles, the sauce and stir until well blended, then add the spring onion and cook for 4 more minutes.
Step 5: How To Make Lo Mein
Step 6: Serve and now we have our delicious lo mein ready!!! enjoy!!!!
Step 6: How To Make Lo Mein
Tips To Prepare Lo Mein
For this Lo Mein recipe, you can add a little chili pepper to the sauce to add some spice.
The noodles used for this Lo Mein recipe are egg noodles, you can find them in any Asian store.
Ingredients such as mirin, sesame oil and soy sauce can be found in some common supermarkets or Asian stores.
Do not overcook the vegetables, Chinese dishes are usually eaten aldente.
What can we accompany this recipe with?
Accompany this delicious lo mein with delicious spring rolls and fried rice.
This recipe has no comments yet