Salmorejo
(0)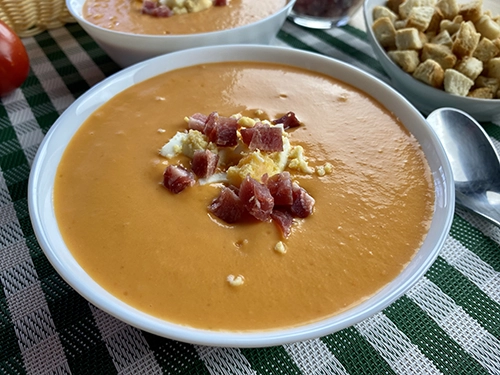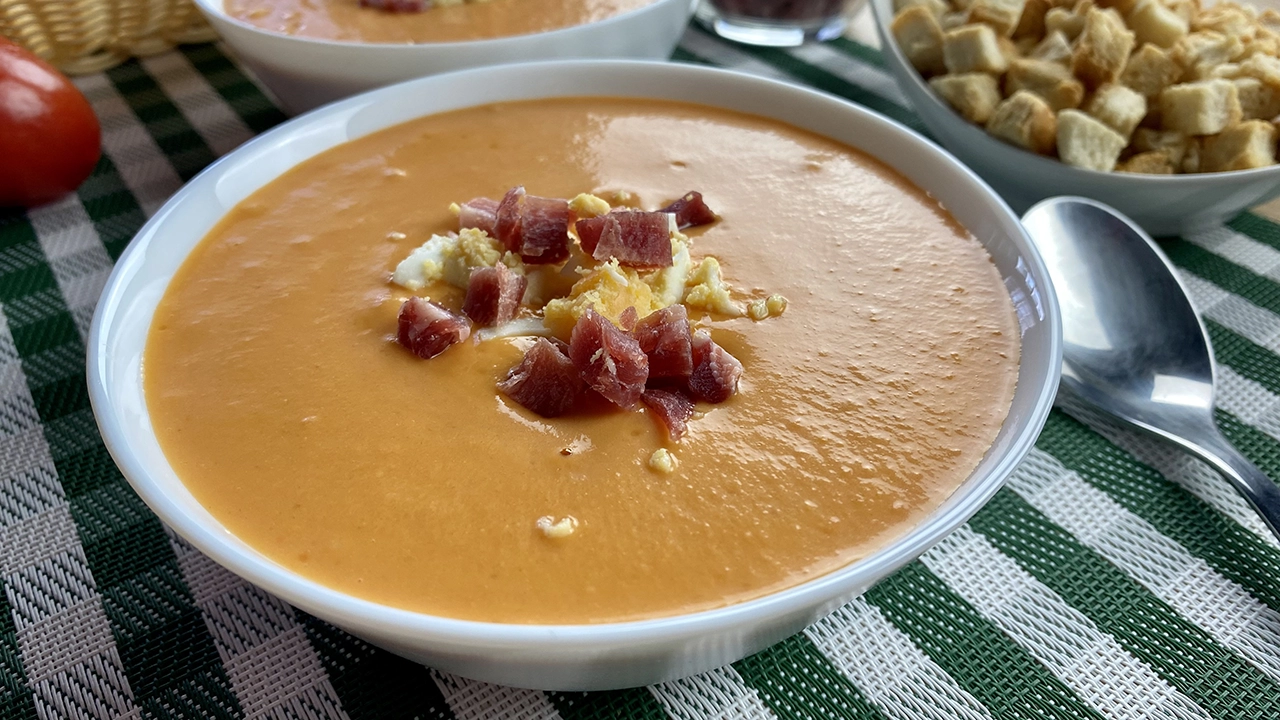 Dish: Starter
Quantity: 4
Country: Spain
The salmorejo Cordobés is a traditional dish of the Andalusian gastronomy, very similar to the Andalusian gazpacho although the difference is that the salmorejo is basically an emulsion and the gazpacho is a mixture of vegetables.
To prepare salmorejo we need basic ingredients that we always have at home among them, our protagonists the tomatoes, additionally olive oil is added, which is what generates the emulsion, garlic and loaf bread.
The salmorejo is usually accompanied with boiled egg, diced ham, croutons, among others, although we can accompany them with other ingredients such as tomatoes, apples, cucumber ...
We can prepare the salmorejo in two ways, the first is to blend the tomatoes and then pass them through a strainer to remove the remains of seeds and the second is to skip this last step, and this is to everyone's taste, this time we chose not to use the strainer.
Do not miss our step by step videos below where we will show you how to make salmorejo, an ideal recipe to eat on the hottest days of the year.
If you want to try other fresh recipes for the summer, be sure to prepare the Andalusian gazpacho, ajo blanco or avocado gazpacho.
Ingredients To Prepare Salmorejo
1 kg. of ripe tomatoes, chopped in pieces
1 clove of garlic
150 ml. of olive oil
200 gr. of loaf bread
Serrano ham cubes to taste
Chopped boiled egg
Salt to taste
How To Make Salmorejo
Step 1:
We begin the preparation of our salmorejo Cordobés, for it, in the glass of the mixer we add the tomatoes and we blend very well, then in a bowl we add the pieces of bread and we bathe them with the crushed tomatoes, we let stand 10 minutes.
Step 1: How To Make Salmorejo
Step 2:
After 10 minutes, pour the bread and tomato mixture into the blender, add the garlic clove, the olive oil, a little salt, blend for 2 minutes or until a fine texture is obtained, set aside for at least 1 hour in the refrigerator.
Step 2: How To Make Salmorejo
Step 3:
Serve in a deep dish, add a little boiled egg, some diced Serrano ham and our delicious salmorejo is ready.
Step 3: How To Make Salmorejo
Tips To Prepare Salmorejo
If you want the salmorejo to have an even lighter texture, pass it through a strainer.
Use extra virgin olive oil with a mild flavor.
What can we accompany this recipe with?
The salmorejo is an ideal dish for summer time when we feel like eating refreshing dishes, accompany it with a light salad as a starter.
This recipe has no comments yet