Moussaka
(0)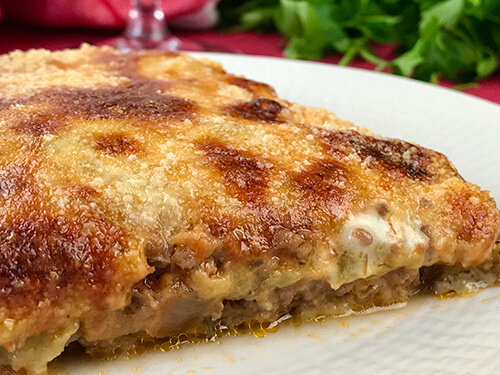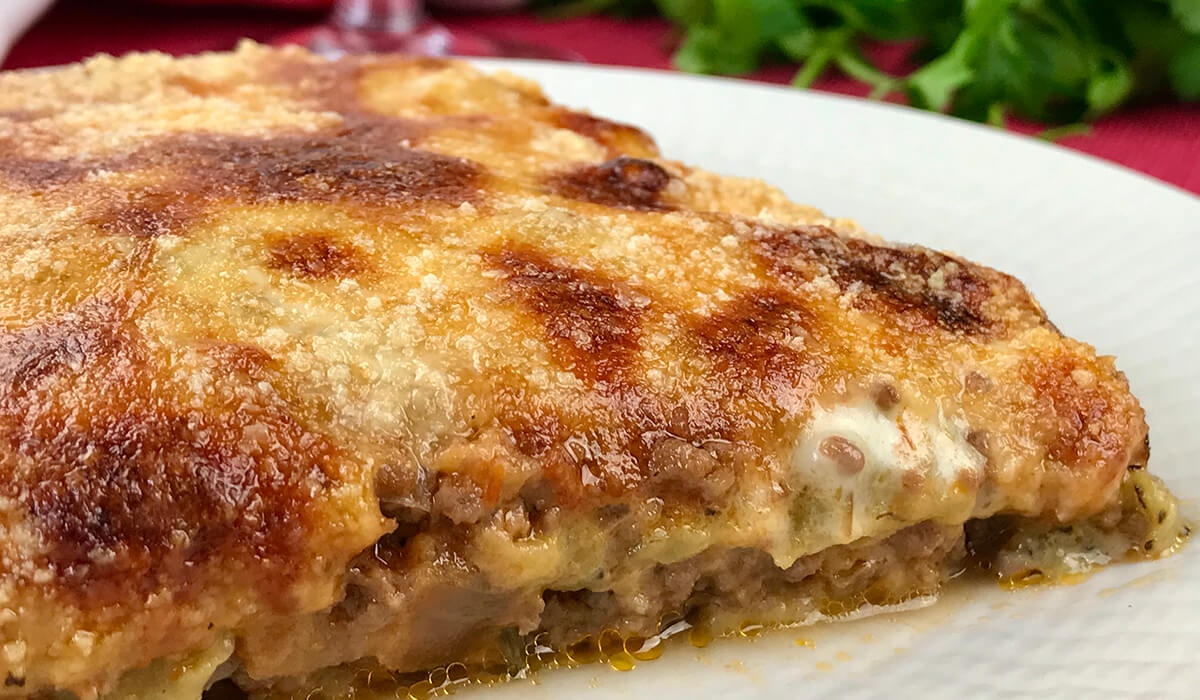 Share

Comment

Score

Save
The moussaka or musaka, together with the gyros and the Greek salad is one of the most famous recipes of the Greek gastronomy, basically it is a type of lasagna based on eggplants instead of pasta, to which minced lamb meat is added (in our case for ease we will use minced veal, the result is equally delicious), béchamel sauce and it is gratinized in the oven with cheese.
As for the rest of the ingredients to prepare moussaka, we usually always have them at home, such as onion, tomato, garlic, parsley, white wine, oregano and cinnamon, very Mediterranean ingredients and flavors, easy to find in any country in the world.
The Greek moussaka can be found in two versions with potato base and alone with eggplant, the latter is the version we will prepare today, in our case is the one we like the most, also in the tips section (you find the section after the step by step) we leave you the step to make the potato base.
Finally and so that the moussaka is really delicious, we leave you 3 tips, the first one if possible (we know it is difficult to find) use Greek oregano, it is an oregano with a much more powerful flavor and aroma than we normally find, second tip although it may seem strange to use it in a savory recipe, cinnamon is essential to prepare the meat of the moussaka, so be sure to add it and as a last tip use a quality bechamel sauce, for this nothing better than preparing it at home, we leave you here our recipe for bechamel sauce.
This moussaka recipe is perfect to bring different flavors to your table and vary a little the meals of the day to day or as a dish to enjoy at a meal with family or friends as it comes out quite a lot.
We invite you to follow our step-by-step videos, where we will teach you the whole process of how to prepare Greek moussaka!
And if you want to know a little more about Greek cuisine, we invite you to prepare their very traditional tzatziki, a sauce made from cucumber and Greek yogurt that is used to dip bread or to add to their famous gyros! We also found their famous Greek salad, super fresh and with all the classic Mediterranean flavors!
Ingredients To Prepare Moussaka
400 g. minced meat
3 eggplants without skin and cut in thin slices
300 g. of crushed natural tomato
1 onion cut into small squares
1 garlic clove, chopped
1 tablespoon of fresh parsley
1/2 teaspoon dried oregano
50 ml. of white wine
1 cinnamon stick
250 ml. bechamel sauce
150 g. Parmesan cheese
Olive oil
Salt and pepper to taste
How To Make Moussaka
Step 1:
We begin the preparation of our Greek moussaka, for this, on a flat surface with absorbent paper, we place the eggplant slices, add a little salt on top and let stand 30 minutes to release all its juices and bitterness.
Step 2:
While the eggplants are ready, we are going to prepare the meat filling, for it in a saucepan at medium temperature, add the olive oil until hot and add the garlic and the onion, let it cook for a couple of minutes.
Step 3:
Add the parsley, then add the minced meat and stir, add salt, pepper, oregano and cook for 7 minutes.
Step 4:
Add the wine and let the alcohol evaporate (about 1 minute), add the crushed tomato, the cinnamon stick, stir and let cook for 20 minutes at medium low temperature (at the end of cooking, remove the cinnamon stick).
Step 5:
In a frying pan over medium heat, add olive oil until hot and introduce the eggplant slices in portions until golden brown.
Step 6:
In an ovenproof dish, place a layer of eggplant and half of the meat on top, put another layer of eggplant and the rest of the meat, then add the bechamel sauce, Parmesan cheese and take our moussaka to the oven to gratin, if your oven does not have a gratin function, cook the moussaka for approximately 10 minutes at 220ºC.
Step 7:
After the cooking time, remove our moussaka from the oven and serve! Enjoy!
Tips To Prepare Moussaka
To prepare this Greek moussaka recipe, you can use minced beef, pork or a mixture of both (70-30).
Remember that when you are going to prepare the moussaka, you must leave the eggplants on absorbent paper with salt so that they collect all their juices and do not release bitter flavors.
The ideal (although we know it is difficult) is to use dry Greek oregano, it is an oregano with a more intense aroma than the one we normally find.
If you do not have cinnamon stick, replace it with 1 tablespoon of cinnamon powder.
Another variant of the Moussaka that we normally find in Greece, takes as a base a layer of potatoes, in that case we cut 2 large potatoes in wheels, season with olive oil and salt and in the same base where we will then assemble our moussaka, we take it to the oven for 40 minutes at 190 ºC.
For the bechamel sauce, we recommend you to make it at home, here we leave you our recipe of bechamel sauce without lumps.
What can we accompany this recipe with?
The moussaka is a very filling dish, so I recommend eating it as a main course, as a starter I recommend a delicious tzatziki, I leave here my recipe for how to prepare Greek tzatziki.
This recipe has no comments yet