Tostones
(0)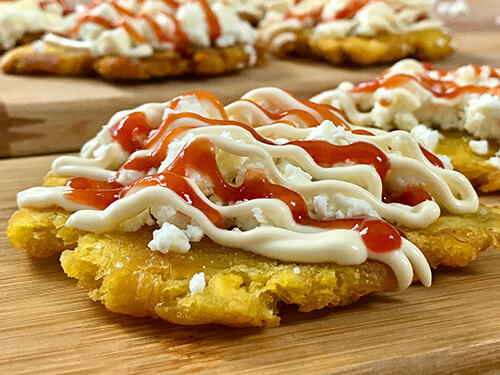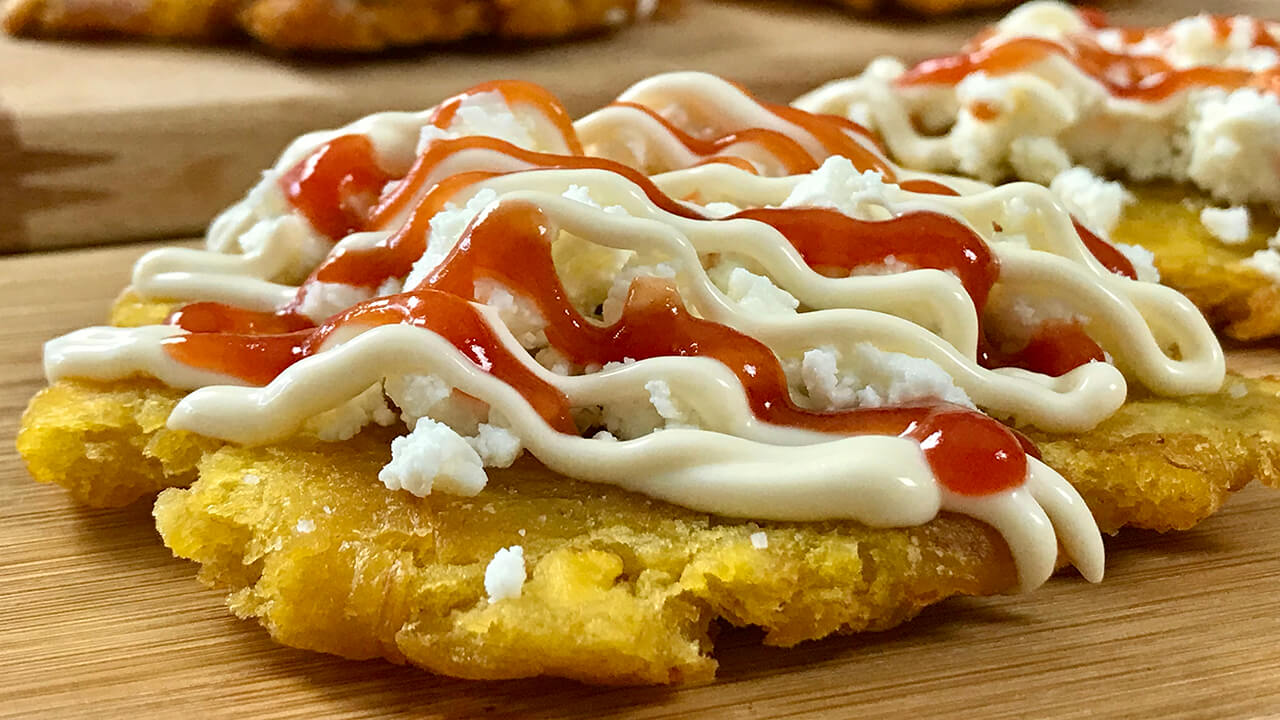 Share

Comment

Score

Save
Dish: Appetizer
Quantity: 4
Country: Venezuela
Venezuelan Tostones are a very characteristic dish from the central region of Venezuela, specifically from the coast, normally these Venezuelan tostones are usually served as a beach snack or as a side to different dishes such as fried fish, It basically consists of a large flattened piece of plantain or green plantain, which is fried and topped with different types of topping, from the most basic which is grated white cheese with tomato sauce and mayonnaise or other more complete as with shredded salad, fish, meat, etc..
Today we are going to elaborate the most basic and traditional version of these Venezuelan tostones, follow our step by step videos below and surprise your table with international flavors.
And if you like Venezuelan recipes, you can't miss this recipe of reina pepiada arepas, its filling consists of a mixture of avocado, cooked chicken and mayonnaise, the truth is that they are super delicious!!! we also find these delicious beef empanadas or the already famous cheese tequenos!
Ingredients To Prepare Tostones
4 plantains
200 g. crumbled feta cheese (or any grated salted white cheese)
Mayonnaise to taste
Ketchup tomato sauce to taste
Salt to taste
Vegetable oil for frying
How To Make Tostones
Step 1: We begin the preparation of our Venezuelan tostones, to do this, we remove the ends of the plantain and then we will cut it into 4 parts, and then we remove the peel.
Step 1: How To Make Tostones
Step 2: In a frying pan with vegetable oil at medium temperature, we are going to place the plantain pieces and seal them.
Step 2: How To Make Tostones
Step 3: On a flat surface we place a piece of banana and with the help of a plate or other object, we will flatten it as I show you in the video, repeat the process with all the pieces of banana.
Step 3: How To Make Tostones
Step 4: In the same frying pan, we will fry the tostones on both sides until golden brown (about 3 or 4 minutes approximately), remove them and place them on absorbent paper to remove excess fat, add a little salt.
Step 4: How To Make Tostones
Step 5: When serving, add cheese, mayonnaise and tomato sauce on top of each tostón and our delicious Venezuelan tostones are ready to be enjoyed!
Step 5: How To Make Tostones
Tips To Prepare Tostones
For this Venezuelan tostones recipe, you can use the cheese of your preference, but I recommend a soft and salty cheese.
For this Venezuelan tostones recipe, you can add shredded salad or coleslaw, it goes great, it is another version that is usually served a lot in the Venezuelan coasts.
What can we accompany this recipe with?
These delicious Venezuelan Tostones are perfect to accompany a good fried fish.
This recipe has no comments yet